'The Moon and Sixpence' to be staged in Beijing, Shanghai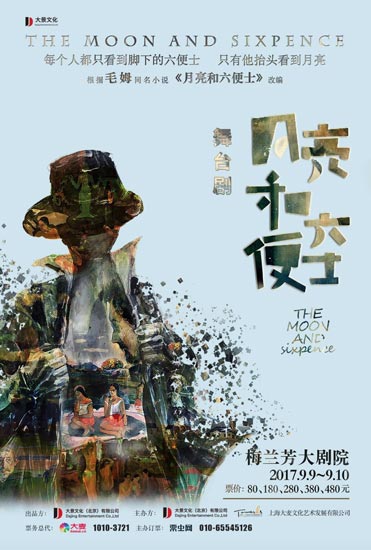 Poster of The Moon and Sixpence. [Photo/Official website of Mei Lanfang Theater]
The stage play The Moon and Sixpence, adapted from the novel by W. Somerset Maugham, is to grace Beijing at the Mei Lanfang Theater on September 9 and 10.
Based on the life story of Paul Gauguin, the novel portrays the mind and soul of Strickland, a middle-aged stockbroker who forsakes his family and career to pursue his passion for art.
"If you look on the ground in search of a sixpence, you don't look up, and so miss the moon." This Maughamian choice for artistic revelation over secular wellbeing has inspired many generations around the world, yet caused quite a debate on social values.
"Contemporary China is much like Europe 100 years ago, where lots of people live in big cities with abundant material wealth," said Su Liming, producer of the play. "But we also need a reminder of ideals and the courage to follow our dreams."
The play imbues narratives with music, dance and special set designs, trying to visualize the dramatic conflicts in the original work.
After Beijing, The Moon and Sixpence will greet the audiences in Shanghai.
If you go:
7:30 pm, Sept 9-10. Mei Lanfang Theater, 32 Ping'anli West Street, Xicheng district. 010-5833-1288.
Ticket: 80-480 yuan ($13-74)