A casual way to enjoy classical music in London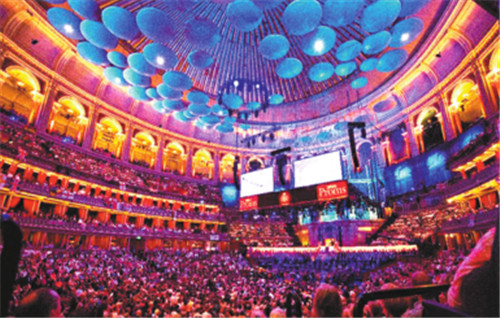 London's Royal Albert Hall stages the world's biggest classical music festival every year. [Photo/Agencies]
It's a world apart from the polished atmosphere of traditional classical music concerts.
Way up near the roof of London's Royal Albert Hall, spectators at the summer-time Proms soak in the music without worrying about the conventions.
"If you're sitting in a seat, you have to sit with your back straight all the time and you can get a bit uncomfortable," says Lisa Beecham, a 38-year-old teacher from London.
"But up here you can lie down, you can walk around, you can move position."
She is among the tens of thousands who flock every year to the Proms, the world's biggest classical music festival staged at the 5,500-capacity venue.
Only a minority of them experience the concerts from the Gallery, right at the top of the circular, domed 1870s Italianate masterpiece on the edge of Hyde Park.
The Gallery is a unique place to experience the BBC Promenade Concerts, which run annually for eight weeks between July and September.
The circular corridor, more than 250 metres long, rings the top of the auditorium and offers a striking view from beneath its high arches.
Up here in the Albert Hall's highest reaches-an area referred to as "the gods" in British theaters-there are no padded red seats or numbered rows.
Prommers stand where they like to best appreciate the music floating up from the philharmonic orchestra on the stage a dizzying distance below.
Leaning against the barrier, with a clear view down to the musicians, Matthew Knight says he prefers standing.
"You feel more part of it than if you were just sitting down," he says, marking the tempo with his right hand.
Knight, who works at London's Southwark Cathedral, comes to around a dozen concerts each year.