An animated sound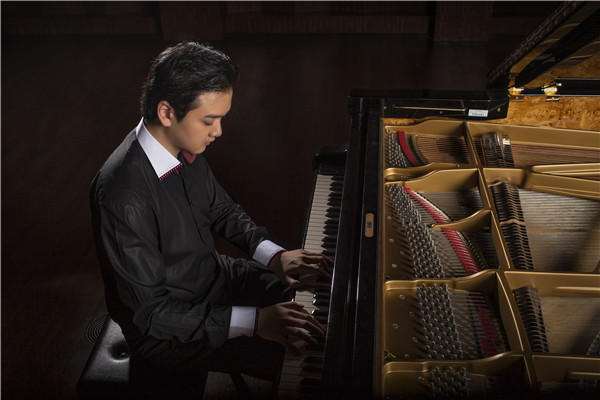 Pianist Maik Guo, 27, has played music from cartoon series and movies since childhood. [Photo provided to China Daily]
A classical pianist hits a note with adaptations of songs from cartoons. China Daily reports.
Maik Guo found the US animated cartoon series Tom and Jerry fascinating as a child.
The escapades of the cat and mouse characters, who don't talk, were delightfully told through music instead.
His favorite cartoon sparked a lifelong interest in animations' soundtracks. The 27-year-old Chinese-German pianist, who's widely known as Animenz, still enjoys anime and comics.
Eight years ago, Guo began to adapt animation music with the techniques he learned through his classical training. The music used in animations is striking, while classical music is as "elegant and lively as flowing water", he says.
"Children all love animation and the music used in it. I hope they can learn classical music skills and enjoy animations at the same time, so I combined the two," says Guo.
The pianist has adapted more than 100 songs from cartoons. In the process, he has watched more than 500 cartoons, including such popular series as One Piece, Naruto and Digimon Adventure. It takes him 50 to 100 hours to complete one adaptation.
At the end of 2010, Guo started to share his works online. His impressive performances have earned him more than 1 million fans and 170 million clicks on his You-Tube channel. His top Unravel adaptation recorded 31 million clicks as of this month.
Guo was born in a small town, Bad Urach, in southern Germany. At the age of 4, he visited the Walt Disney World Resort in Florida with his parents. The background music stayed in his mind. He soon started playing the piano.
Guo's piano teacher, Stefan Kramer, says he has a gifted memory for music. His parents never forced him to undertake any professional training.