Classic Broadway musical given Chinese character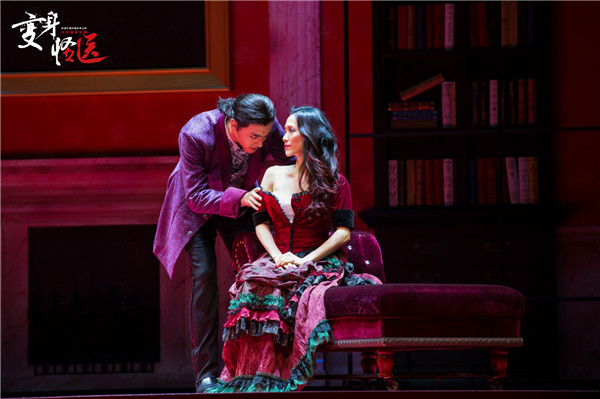 The Chinese adaptation of Broadway musical Jekyll and Hyde will be staged in Beijing in September. Set in 19th-century London, the musical tells the story of a doctor who suffers from schizophrenia. [Photo provided to China Daily]
The dark tale of Jekyll and Hyde, which is about a London doctor in the 19th century who suffers from a split personality, is a classic Broadway musical.
Released in 1997 and based on the novella Strange Case of Dr Jekyll and Mr Hyde, by the Scottish author Robert Louis Stevenson, which was first published in 1886, the award-winning musical was written by Frank Wildhorn and Leslie Bricusse.
On July 28, a Mandarin adaptation of this musical made its debut at the Shanghai Grand Theater, where it is being staged through Aug 31.
The musical will then transfer to the Tianqiao Performing Arts Center in Beijing from Sept 8 to 29.
Set in Victorian-era London, the musical tells the story of a doctor, Henry Jekyll, who conducts an experiment on himself, which leads to the emergence of his double personality, named Edward Hyde.
In the daytime, he is a respectable doctor but when night falls he turns into a ruthless criminal.
The Chinese production, directed and choreographed by David Swan, has 24 Chinese actors and a 13-member orchestra, playing 32 classic songs translated from the Broadway musical hits, including This Is the Moment, Once Upon A Dream and Someone Like You.
"There were two main challenges: the translation and dealing with the cultural differences," says Swan, the American director.
"This is more difficult and more important than many may realize. The goal is for it to be as powerful and beautiful as the original, but for it to also seem as natural as though Chinese were its original language."