Oscar fave La La Land coming to China, with love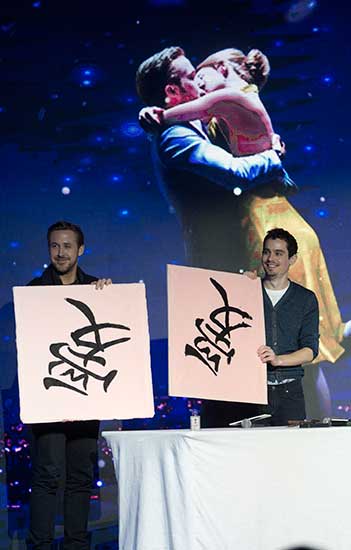 Ryan Gosling (left), the lead actor, alongside Damien Chazelle, the director, write the Chinese character ai (love) during their Beijing promotional tour on Tuesday.[Photo by Feng Yongbin/China Daily]
Damien Chazelle leans casually against a chair, looking pretty much like any young expatriate in downtown Beijing.
But the 32-year-old American director is now making history in Hollywood.
His musical romance La La Land just topped the Oscar-nomination list on Tuesday by bagging 14 nods, tying records set by Titanic and All About Eve for the most ever.
Incomplete statistics show La La Land has to date won up to 127 awards across the world, including a record-breaking seven Golden Globes.
Most of Western film critics applaud the film as one of the best in 2016 for its dazzling scenes, beautiful lyrics and nostalgic take on an old Hollywood fashion, which evokes films like Singin' in the Rain and The Sound of Music.
The boy-meets-girl romance will open across China-now boasting the largest number of screens in the world-including an Imax version on Feb 14, Valentines' Day.