National-level inheritor creates birch bark designs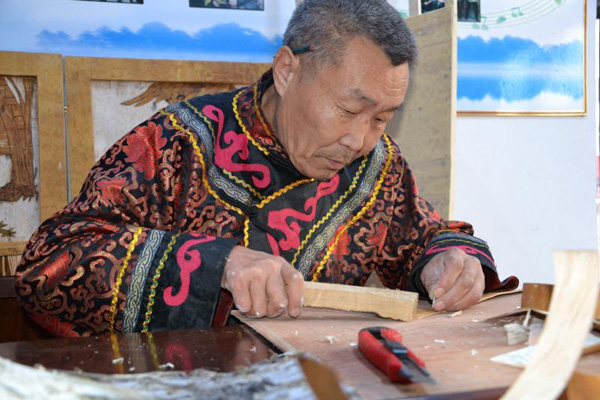 Fu Zhanxiang is a national-level inheritor of intangible cultural heritage and creates pictures and handicrafts with birch bark. [Photo provided to chinadaily.com.cn]
As a national-level inheritor of intangible cultural heritage, Fu Zhanxiang, 62, knows the skilled techniques to make pictures and various handicrafts using birch bark.
Fu, of the Hezhe ethnic group in Northeast China's Heilongjiang province, presents scenes of the group's daily life, such as fishing and hunting, in his works.
Fu began to concentrate his attention on the techniques when he moved to a Hezhe gathering town in Raohe County 35 years ago.
Birch is grown in Northeast China. Strong and water-resistant, it is easily cut, bent or sewn, and has been a valuable building material since prehistoric times.