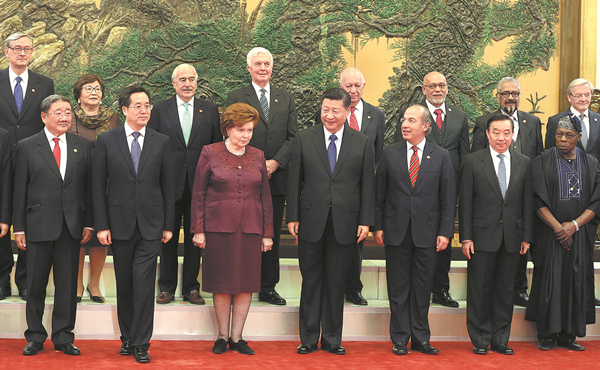 President Xi Jinping poses for a group photo with participants of the Imperial Springs International Forum at the Great Hall of the People in Beijing on Thursday. The participants are mainly incumbent and former top foreign leaders and heads of international groups. FENG YONGBIN / CHINA DAILY
Growing market in China to spur trade, investment
China will stick to its basic national policy of opening-up and participate in global governance with a more positive gesture, President Xi Jinping said on Thursday.
Xi made the remarks while meeting with representatives of the Imperial Springs International Forum at the Great Hall of the People in Beijing. The representatives are mainly incumbent and former top leaders of foreign countries and international organizations.
The Chinese market will become larger with more comprehensive development, Xi said, adding that China is going to import $24 trillion worth of commodities and attract $2 trillion in investment during the next 15 years.
China will hold the first expo on international imported products in Shanghai next year as a measure of encouraging imports, Xi said, adding that China does not seek a surplus.
Noting that China's proposal of building a community of shared future for mankind is expected to unite people around the world, Xi said that China's long-term peace and prosperity is a great contribution to building such a community.
China's development path of socialism with Chinese characteristics is selected by history and the people, Xi said, adding that the 1.3 billion Chinese people's livelihoods have been continuously improved in recent decades.
China encourages other countries to explore ways that suit their own national situation, Xi said. China would like to exchange experiences of state governance with other countries, he added.
The goal of the Communist Party of China is great and also simple: to help the Chinese people lead a happy life, he said.
The president pledged to deepen reforms, seek a higher quality of economic growth and protect the environment.
China will never seek hegemony, and cooperation on Belt and Road Initiative will not impose additional conditions, he said.
Petre Roman, former prime minister of Romania, who attended the meeting, told China Daily that China has been pursuing "the industries of the future" in such areas as renewable energy and industrial robots amid the country's efforts to seek a higher quality of growth.
"China today is what they call a 'green superpower'," said Roman, who also is a professor at the University Politehnica Bucharest.
In 2016, the overall investment in renewable energy in China was $103 billion, which is more than the $49 billion of the European Union and the $43 billion of the United States, he said, adding that the number of industrial robots made in China and working in China last year was 87,000 units, compared with No 2 South Korea's 47,000 units and No 3 US' 40,000 units.
"From all these figures, you can see that China has succeeded in not only infrastructure and housing, it's also very important in the new modern industries," he said.
Felipe Calderon, the former Mexican president, said that China is taking the leading position in several areas of global affairs, including reducing poverty, fighting climate change and boosting free trade, which needs strong leadership.
"At the global level, addressing these issues - alleviating poverty, fighting climate change, and promoting free trade - is important to set the right direction, which is relevant for all of us," he said.
Cassam Uteem, GCSK, former president of Mauritius, said that Xi has become "one of the greatest leaders" not only for China, but also for the whole world.
"We are looking up to him," he said, while expressing hopes that the China-proposed Belt and Road Initiative could bring more opportunities for Africa.
The Imperial Springs International Forum was officially established in 2015 with the approval of the Chinese government. The forum, held in the Imperial Springs International Convention Center in Conghua, Guangzhou, serves as an important platform for people-to-people diplomacy and international exchange.
Co-hosted by the Chinese People's Association for Friendship with Foreign Countries and the Australia China Friendship and Ex¬change Association, the forum aims to enhance understanding and expand consensus among parties through discussions on important topics in the economy, politics and culture, thereby facilitating regional and global cooperation.