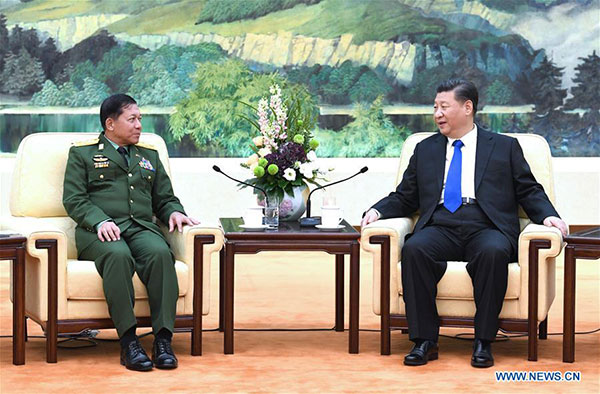 President Xi Jinping (R) meets with Myanmar's Commander-in-Chief of Defense Services Sen-Gen Min Aung Hlaing in Beijing, Nov 24, 2017. [Photo/Xinhua]
Xu Qiliang, vice-chairman of China's Central Military Commission, met with Min Aung Hlaing in Beijing on Thursday, a day after Li Zuocheng, chief of staff of the Joint Staff Department under the Central Military Commission, met with the Myanmar military officer.
Xu said China will stick to developing the China-Myanmar friendship and supporting Myanmar to realize its domestic peace and national reconciliation, no matter how the international situation or the two countries' domestic situations change.
On Sunday, Foreign Minister Wang Yi proposed a three-phase solution for Myanmar's Rakhine state, starting with a cease-fire, when he and Myanmar State Counsellor and Foreign Minister Aung San Suu Kyi jointly met with reporters in Naypyitaw, the capital of Myanmar.
China believes the issue can be addressed by finding a solution acceptable to both Myanmar and Bangladesh through consultations, Wang said.
While the key is to prevent flare-ups, the second phase should be bilateral talks between the two countries to find a workable solution, Wang said, adding that he hoped the two sides could sign and implement a repatriation agreement that has almost been reached.
Xu Liping, a researcher of Southeast Asian studies at the Chinese Academy of Social Sciences, said that Rakhine state is facing a humanitarian crisis and that the situation there affects the stability of Myanmar and Bangladesh, where many from Rakhine state have fled.
As a responsible country and Myanmar's neighbor, China has the obligation to be concerned about the country's situation, and it is reasonable for China to offer constructive advice, Xu said.
"The visit of Myanmar's military leaders shows the political trust between the two countries, and the military plays an important role in resolving this issue," he added.
Jia Duqiang, a senior researcher of Southeast Asian studies at CASS, said China's willingness to be involved in coordinating the issue involving the Rohingya people shows that the country is becoming more active in diplomacy.
"Both Myanmar and Bangladesh are important countries involved in building the Belt and Road and the Bangladesh-China-India-Myanmar economic corridor, so the stability in the area concerns not only China's interests but also the interests of other relevant parties," he said.
Zhou Jin contributed to this story.