Long March 6 lofts 3 satellites into orbit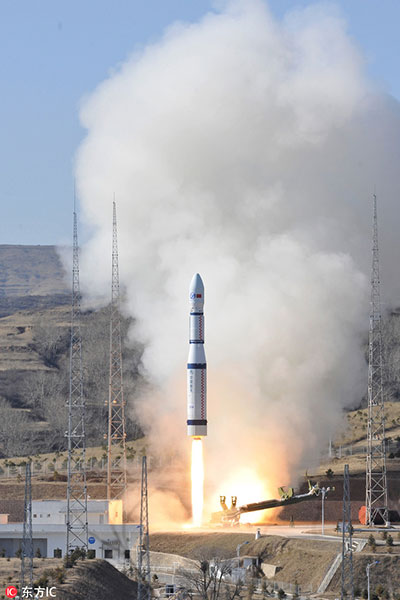 The Long March 6 blasts off at Taiyuan Satellite Lauch Center in Shanxi province, Nov 21, 2017. [Photo/IC]
The Long March 5 is the newest and one of the most powerful launch vehicles in the world. It is strong enough to launch China's manned space station, which will be assembled starting around 2019 and enter service in 2022.
With an ultimate goal of having 138 satellites in orbit by 2030, the Jilin 1 constellation is being constructed to offer clients high-definition videos and images of areas its satellites monitor. It is named after the northeastern province of Jilin, where its developer-the Changchun Institute of Optics, Fine Mechanics and Physics, part of the Chinese Academy of Sciences-is located.
The three satellites launched on Tuesday have a total weight of about 625 kilograms. They will work for at least three years in a sun-synchronous orbit 535 km above Earth, the institute said.
Eight Jilin 1 satellites have been put into operation. The first four were launched in October 2015 from the Jiuquan Satellite Launch Center in Northwest China and the fifth was launched in January at the same facility.
Once the constellation becomes fully operational, it will service a wide range of civilian and business fields such as land resources monitoring, mineral exploitation, geographical mapping, agricultural estimation, environmental inspection, disaster relief and emergency response, according to the institute.