Soccer project puts left-behind kids in spotlight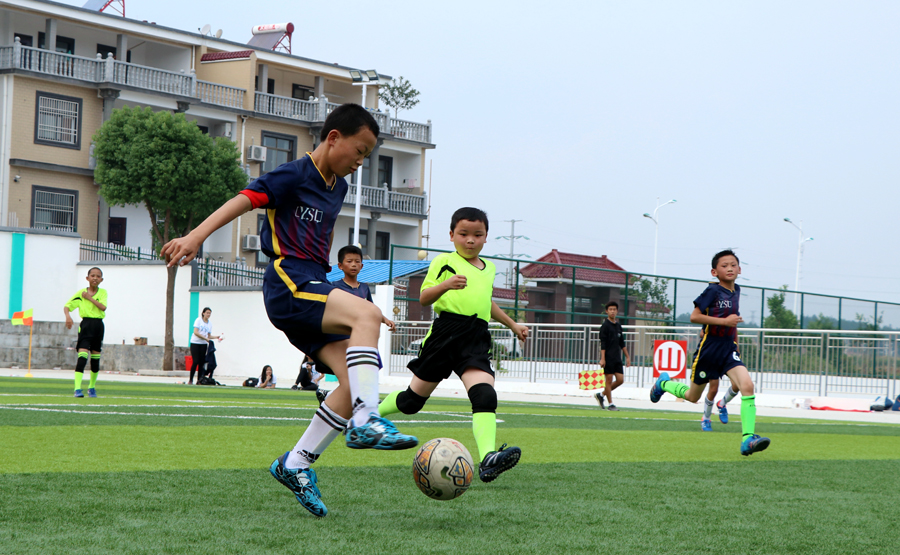 Primary school students from Qianshan county, Anhui province, compete in a soccer game on Oct 1. [Photo by ZHU LIXIN/CHINA DAILY]

Providing help
Huang, whose father grew up in an impoverished rural family, first heard about left-behind children in 2015.
"I cried when I saw media reports about how four left-behind siblings in Guizhou province had committed suicide by drinking pesticide," she said. "I'd never heard of left-behind kids before then."
At the beginning of last year, after researching the issue by reading reports and talking to some left-behind children who were visiting Shanghai, Huang decided to provide help by founding Youth Spotlight.
The project quickly attracted the participation of many of her schoolmates, mostly international students whose parents work in China.
"More than 70 of my schoolmates have joined in, with nearly half of them very active in organizing activities for the kids," she said, adding that many of the left-behind children she has met are bored with their rural existence.
Initially, Huang wanted to help children in Guizhou, where the four children committed suicide, but she realized that the province was too far from Shanghai.
"The distance would make it too difficult and costly to provide regular, meaningful help," she said.
After more research, she discovered that Anhui, which has a registered population of more than 70 million, is home to a large number of left-behind children.
Early last year, Huang began looking for schools in rural Anhui that would be willing to cooperate with the project, and contacted dozens she found online.
"Most of the people who picked up the phone rejected my suggestion. They asked how I had found their numbers, and they were afraid and unsure of my motivation," she said.
Things only improved when Tianzhushan Primary School in Qianshan agreed to allow her to visit.
When she arrived in March last year, Huang met the principal and explained that she wanted to help the children by offering them the opportunity to engage in an activity they loved.
"However, I didn't decide the activity-the children did. After we asked eight classes of fourth and fifth graders, the answer was clear; the thing they most wanted to do was play soccer," she said.
"Their wide agreement excited me. What could be better for left-behind kids than bringing them a sport that fosters camaraderie and cooperation?"
In November last year, the first team in the county was founded at Tianzhushan Primary. Seven more schools joined the project this year.
Huang and her schoolmates tried a number of ways to raise funds, with the most effective methods being canvassing donations online or approaching individual sponsors.
"We tried raising funds from businesses, but they rejected us because they didn't think it would benefit them," she said.
After two rounds competing for funds against other student clubs at Huang's school, Youth Spotlight received a grant of $3,500, along with a number of donations from individuals.
The organization used the money to give every team soccer jerseys, with the name of the school printed on the back, and provide subsidies to teachers who coach the children part time.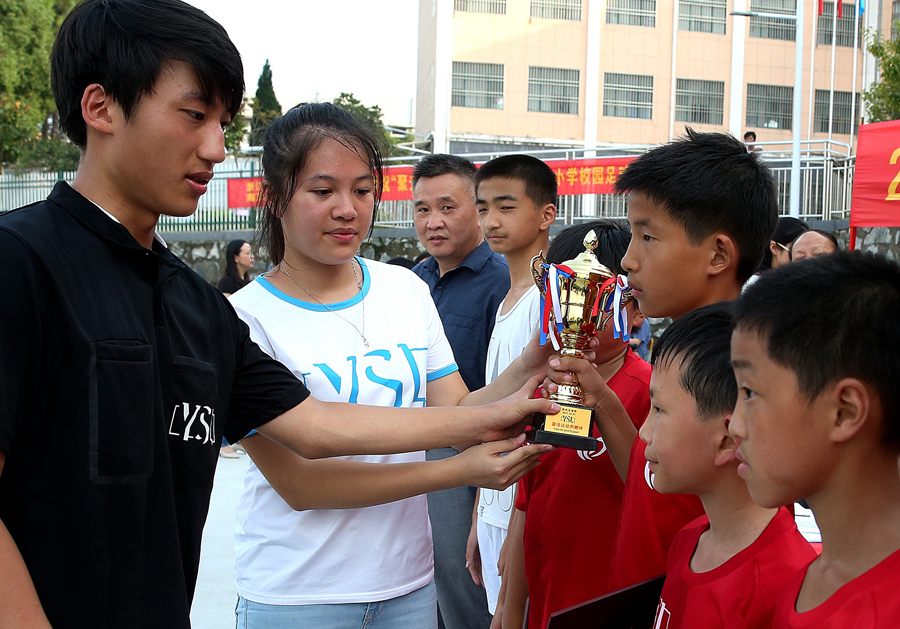 Huang Yujia (second from left) helps to present a trophy to members of a primary school soccer team in Qianshan on Oct 1. [Photo by CHEN DONG/CHINA DAILY]
Publishing project
Huang has visited Qianshan five times, and has also spent a month in Boluo, a village administered by Chashui, to see how the children live.
She is planning to publish a book she has written, based on the children's experiences, and has also published diary entries written by left-behind children in Guizhou, which she translated into English.
The teachers in Qianshan send her photos of daily training sessions. "That way, I can make sure the children enjoy real engagement in soccer," she said.
The children's parents also provide support. Chu Wenhao, now in the fifth grade, recently received a soccer ball worth 90 yuan and a pair of sports shoes from his father.
"The boy's parents are happy to know that soccer makes him happier and stronger," his grandfather said.
The family hails from Laowu, or "old house," a village in Chashui. After years of hard work in Hangzhou, Chu Wenhao's parents have managed to build a two-story house in the village. Some family members have already moved in.
"The new house was built for my older grandson, who will need it when he marries," Chu Guoqiang said.
Chu Wenhao's father, Lu Jiayou, comes from a poorer family than his wife, so he lived with his parents-in-law and his sons have taken their name, not his.
The boy's grandparents farm about 0.5 hectare of land, just enough to feed themselves, but even with his grandparents the boy is withdrawn.
"He just spends a lot of time playing soccer at home after school," his grandfather said.