World's largest telescope finds new pulsars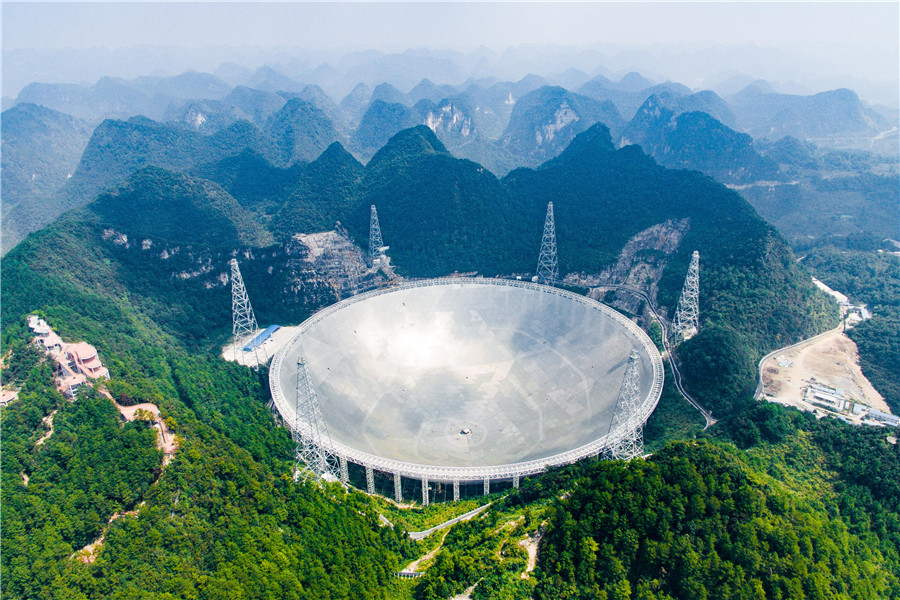 File photo of the Five-hundred-meter Aperture Spherical Radio Telescope, known as FAST. [Photo/Xinhua]
Located in a natural depression in Guizhou province, FAST consists of 4,600 triangular panels that form a receiving dish about the size of 30 soccer fields.
Apart from its massive size, it also has unmatched accuracy and sensitivity, allowing scientists to find previously hidden stars, Li said. "When we first received the pulsar signals, you can hear their frequency signals beep like the beating of a baby's heart," he said.
Moreover, FAST is capable of surveying the night sky for multiple scientific data at once, ranging from galaxy structure to star explosions, while other telescopes can only manage one task at a time, he added.
George Hobbs, a research scientist from the Commonwealth Scientific and Industrial Research Organization in Australia, said, "The world's most exciting radio astronomy projects are happening in China with FAST, and it is a great honor for the Australian science community to be part of the process."
Hobbs was also the leading scientist for the Parkes Pulsar Timing Array project, the telescope that confirmed China's pulsar findings. Since the discovery of pulsars in 1967, scientists have found more than 2,700 of them, more than half of which were found by Parkes Observatory, Hobbs said.
"Australia is the world leader in finding pulsars, but China will catch up really fast with FAST's help," he said. "If FAST can find a binary system in which a pulsar is orbiting a black hole, this will be a discovery worthy of a Nobel Prize."