Ex-nurse prospers in male-dominated field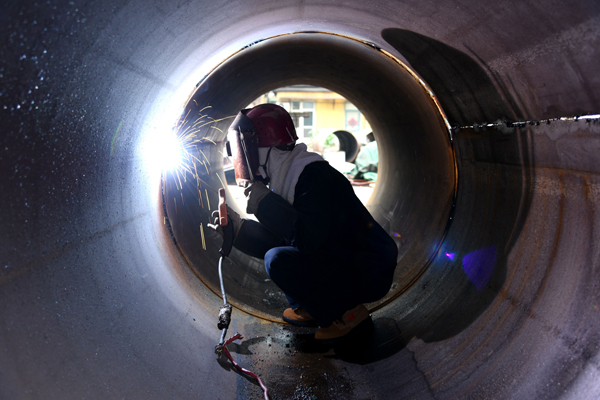 Lin Hongxia, a delegate to the 19th National Congress of the Communist Party of China, welds inside a pipeline. [Photo/China Metallurgical News]
After graduating in 1998, Lin Hongxia became a nurse in the Hospital affiliated to Laiwu Mining Company in Laiwu, East China's Shandong province.
Four years later, to reunite with her families, Lin switched jobs to become a welder. She began work at the metal structure department in the construction and installation branch of Shandong Laiwu Steel Construction Co Ltd.
Facing harsh working environments and heavy workloads, Lin did not flinch. She worked hard to improve her welding skills by taking every chance to learn from senior employees, and teaching herself welding theories in her spare time.
After numerous hours of practice, she grew to be a proficient welder, capable of a variety of techniques.
In 2004, Lin was ranked fifth among all the welders of the company in a skill contest. But she did not get complacent.
She set new goals for herself — including grasping overhead welding, which is the most challenging of all welding techniques and a daunting job for even experienced workers.
To master the skill, Lin endured great hardships. During practice, the sparks fell down through her collar and cuffs, burning her neck and arms repeatedly and leaving her clothes dotted with holes.
But practice makes perfect. In 2006, Lin took the first place in the overhead welding category in a national contest for riveters and welders as the only female participant.
Another challenge for Lin was to master gas shielded welding, which requires a windless environment in operation. It was the hottest time of year when Lin learned the technique. Lin, wearing thick protective clothing, had to work in an enclosed space. After hours of work, her clothing was drenched in sweat.
In 2010, Lin was tasked with a tricky job — to weld a pipeline of the water wall in a blast furnace. As the interior space was very narrow, only female workers were small enough to do the job.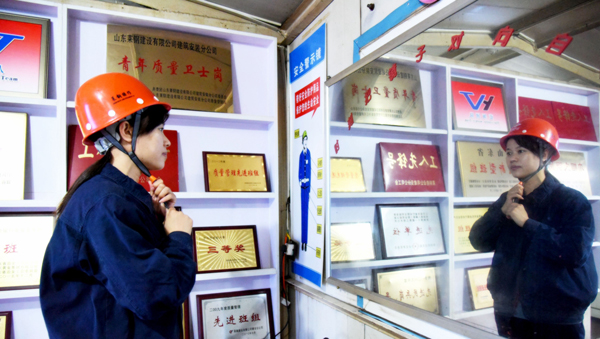 Lin prepares to start a day's work. [Photo/China Metallurgical News]
During the welding, Lin had to change positions many times to fit into the tiny spaces. Sometimes she lied on her back, sometimes on her stomach and sometimes she kneeled down.
Some spaces in the pipeline were so narrow that Lin could only put her head into them without wearing a mask, and she had to hold protective glass up in one hand while wielding an electrode holder in the other hand.
During the welding process, the burning slag fell on her and, to guarantee the quality of the weldment, she could not put out the flame on her glove lighted by sparks.
After working for 15 years as a welder, Lin's arms and legs were left with many scars. She rarely wears skirts or short-sleeved clothes to hide them.
Due to the hardships involved in the job, the five female workers who joined the company with Lin have left their position. Lin is the only one who remained in the post. Speaking of the reason of her persistence, she said she was grateful to the company for giving her the chance to fulfill her dream and developed an affection for it.
For her commitment to the job, Lin was honored as a "Craftsman of Nation" by the All-China Federation of Trade Unions this year.
In June, the 40-year-old was elected a delegate to the 19th National Congress for the Communist Party of China, a once-in-five-years gathering for Party members, which will set the tone for the country and the Party's development in the next five years.