How an undergraduate raised her sister and mother alone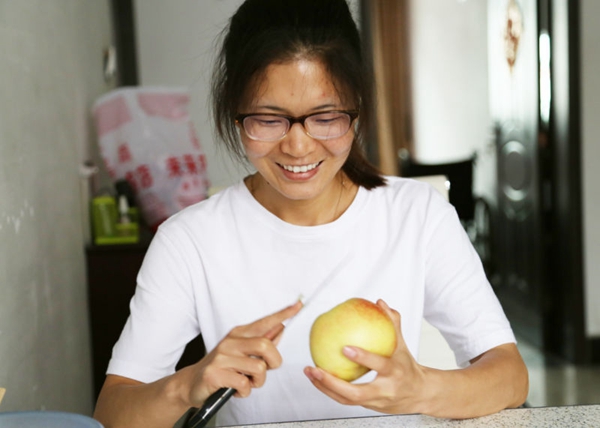 Liu Jiaojiao, 26, cuts an apple for her mother with a knife. [Photo by Hu Hongtao/Provided to chinadaily.com.cn]
For many undergraduates, finding a job or getting further education is a trouble at their age. However, a Henan girl faced more urgent and much bigger issues when it came to job or further studies, because she had to help her family all by herself before graduating from college.
Liu Jiaojiao, 26, was born in a village of Luyi county in Zhoukou city, Central China's Henan province. After graduation in 2014, she chose to be a teacher in a middle school in her hometown, so she could take care of her paralyzed mother.
Up to now, as the only bread-earner in the family, Liu has taken care of her mother who sufferes with cerebral infarction for five years. She has remained positive and strong to overcome the challenges of life, rather than complain about her fate.
In 2010, after finishing the college entrance examination, Liu was told that her father was diagnosed with esophageal cancer six months ago. Then her father was dead about one year later.
"My grandmother was over 70 years old, and my sister was still in high school at that time, which left my mother and me to raise the family," Liu said.
Hou Panzhi, 50, Liu's mother, has been suffering from mental illness for a long time. Liu said: "She could say something to encourage me at the beginning; I did not feel alone at that time."
In order to save money, she spent less than 10 yuan ($1.5) every day.
Besides doing some part-time jobs at the college, she also worked in other southern cities such as Guangzhou and Hangzhou in the summer and winter vacations.