Typhoon makes mess in S. China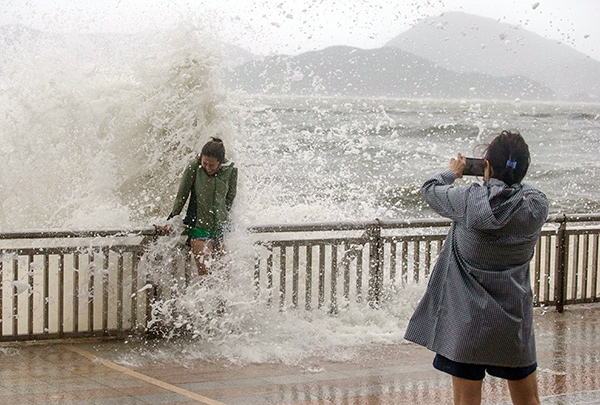 Waves on the waterfront provide some excitement after Typhoon Hato hit the Heng Fa Chuen community of Hong Kong on Wednesday. [Photo by ROY LIU/CHINA DAILY]
Seeking shelter
Chen Haihui, a university student, was trapped with her boyfriend in a store in Shangchong, Zhuhai, as rain fell at noon on Wednesday.
"There were few pedestrians. People are seeking shelter in stores. Many trees fell and hit cars. There's no water or power supply at home," she said.
More than 15,000 workers on the Hong Kong-Zhuhai-Macao bridge project were evacuated.
More than 81,380 families had suffered blackouts in Jiangmen city as of Wednesday morning, with 204 maintenance workers dispatched to restore power.
Nonemergency government agencies, enterprises and schools were given a day off in Zhuhai, Jiangmen, Shenzhen and Zhongshan on Wednesday.
Lin Shaochun, executive vice-governor of Guangdong, led a work team to Jiangmen to guide the relief work.
Hato gained strength rapidly before making landfall. It was upgraded from strong tropical storm to a strong typhoon-two notches on the scale-in less than 24 hours, said Qian Qifeng, a forecaster at the center.
Shipping across the Qiongzhou Strait was suspended on Wednesday. Guangzhou Railway (Group) Corp suspended services on some interprovincial routes and between Guangzhou and Nanning, Guangxi Zhuang autonomous region, with some services resuming at 4 pm on Wednesday.
Hato moved into the Guangxi Zhuang autonomous region on Wednesday night and will bring heavy rain to parts of Southwest China.
Gu Caijuan contributed to this story.
Contact the writers at liwenfang@chinadaily.com.cn