Dancer, 12, a hit at prestigious contest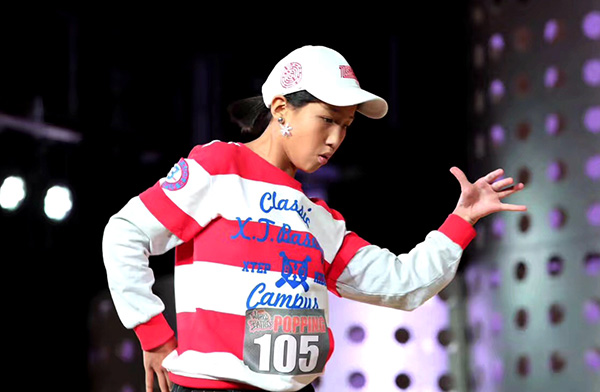 Xi Jiaqi, 12, was a World Battles semifinalist at the 2017 World Hip Hop Dance Championship in Phoenix, Arizona, on Friday. Provided to China Daily
Xi Jiaqi, a 12-year-old girl originally from the Xinjiang Uygur autonomous region, used her moves to become a semifinalist at a top hip-hop dance contest in the United States on Friday.
Jiaqi reached the World Battles top four at the 2017 World Hip Hop Dance Championship in Phoenix, Arizona. The contest attracts dancers from around the world.
She had won China's hiphop dance competition in Shanghai in July by impressing judges with her popping dance-a style of street dance that started in California in the late 1960s. It is characterized by sudden tensing and relaxing of the muscles to the rhythm of musical beats.
"Jiaqi began to pick up popping at 7 and started competing at 9," said Miao Chunhong, her mother. "When she was 7, I divorced her father and decided to move to Guangzhou, where we left everything behind to start a new life."
Miao said that when they went to Zhongshan, Guangzhou, life was tough. They had to live in a 20-square-meter apartment. Jiaqi, sensing her mother's financial struggles, secretly rummaged through the trash looking for bottles to sell to help.
Miao has saved prize money that Jiaqi earned in dancing competitions for her tuition.
"She showed great interest in hip-hop dance when I first brought her to a dance class at the CGS Dance Studio," said Miao. She said she let Jiaqii learn hip-hop to encourage her to exercise and meet new friends.
"The membership just costs about 2,000 yuan ($300) a year, and she can practice two hours every day," Miao said. "I'm glad that she enjoyed it, and she said she fell in love with popping at first sight."
While Jiaqi had found something she loved to do, things at home became tougher. Miao was diagnosed with breast cancer. Her condition worsened right before Jiaqi's competition in Shanghai and she is still undergoing chemotherapy.
"I had to ask my doctor to change my treatment so that I could come to the US with her," Miao said. "But Jiaqi is very independent. She has attended many competitions all by herself since she was 9."
Miao said the US trip was Jiaqi's first abroad; she is nervous but also excited.
"I'm impressed by dancers from different parts of the world and their high-level dancing during the competition," Jiaqi said.
Jiaqi said she was surprised by how dancers used every spare minute to practice before the contest. "They would just find a space and turn on their portable sound and start dancing. I could feel their passion, and it encourages me a lot," she said.
"My primary goal in this trip is to learn as much as I can from every dancer I meet and battle with," Jiaqi said.