Wife's devotion helps man recover from stroke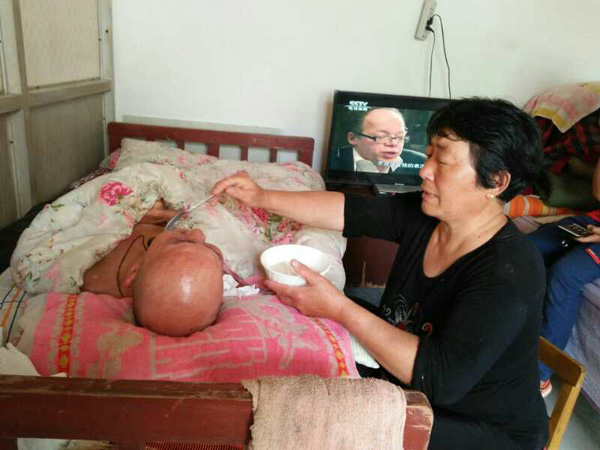 Li Xiaocui feeding her husband at their home at Hehui village in Xingtai, North China's Hebei province. [Photo by Zhai Lihua/chinadaily.com.cn]
A 61-year-old in North China's Hebei province, is showing signs of recovering from a serious stroke 14 years ago.
Dou Jianfang was a doctor at Hehui village in Xingtai when he had a stroke in 2003. He was left completely dependent on his wife, Li Xiaocui, who continued to take care of him even when others suggested giving up.
With her never-give-up attitude, Li proved that Dou could one day get better.
In recent years, Dou has started to remember things and could understand people's words.
Neighbour Shi Shufen said no one believed Dou could recover from his state.
"Back then he could not move, think, or speak, but now he can tell who I am and know what I am saying," Shi said.
"It is a touching miracle."
Li fed her husband, helped him go to the toilet, and chatted with him even though there was no response every day.
"She has overcome all the tedious work and done a brilliant job as a wife, also as a mother," Shi said.
The couple has two sons and a daughter, who were still unmarried when the family was hit by the disaster.
On the one hand, Li was taking care of her paralyzed husband, while on the other, she must help their children get married and settle down.
Fourteen years later, their children are married and Dou is getting better, which is a great comfort to Li.