Li: Send 'strong globalization signal'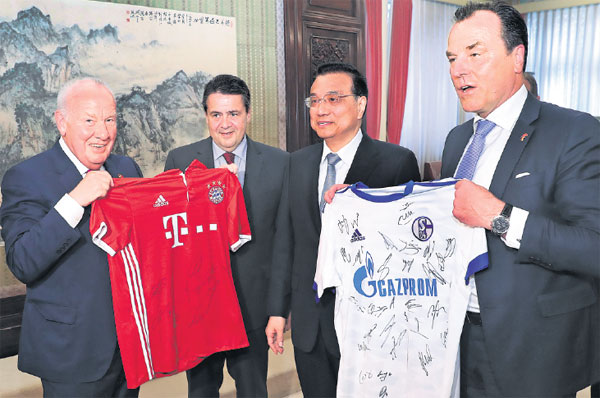 Premier Li Keqiang meets German Vice-Chancellor and Foreign Minister Sigmar Gabriel (second from left) and receives soccer club jerseys from the visiting German delegation in Beijing on Wednesday. Pang Xinglei / Xinhua
China and Germany should jointly send a strong signal of support for economic globalization and free trade and investment, Premier Li Keqiang said on Wednesday.
Li made the remark when meeting German Vice-Chancellor and Foreign Minister Sigmar Gabriel in the Chinese capital.
Li noted that factors of uncertainty and instability are prominent in the international political and economic situation.
Against such a background, the two countries should "jointly send a strong signal of China and Germany, China and Europe supporting economic globalization, liberalization and facilitation of trade and investment, safeguarding regional peace and stability and promoting development and prosperity", according to a news release is suedby the Chinese government.
A healthy China-Germany relationship that develops stably is positive to both nations, China-Europe relations and theworld, he said.
Li will make an official visit to Germany and Belgium from May 30 to June 2, the Foreign Ministry announced on Monday. In Germany, Li will attend the annual meeting of the two countries' prime ministers.
Gabriel said Germany eagerly awaits the visit of the Chinese premier and is committed to jointly building a multiple world and free and smooth trade.
Later in the afternoon, Foreign Minister Wang Yi said at a joint news conference with Gabriel that during Li's visit, China expects progress in cooperation with Germany in fields including pushing forward the Belt and Road Initiative, two-way investment and smart manufacturing.
China will "exert its strength" to help the G20 summit, to be held in July in Germany, to reach new consensus on the basis of achievement made in the Hangzhou summit last year, and send an "active, clear and strong signal" on global economic cooperation and governance, Wang said.
Zhao Junjie, a European studies researcher at the Chinese Academy of Social Sciences, said Beijing and Berlin have become the two main advocates of globalization, given US President Donald Trump's objection to globalization and free trade.
"Aside from Trump's stance, Britain is leaving the EU, while right-wing populism is developing in Europe. Globalization is facing challenges worldwide. Closer cooperation between Beijing and Berlin bolsters the strength of the advocates."
In an interview with the Chinese-language news website The Paper that was released on April 13, German Ambassador to China Michael Clauss said, "We have seen more and more overlapping interests between Germany and China, especially on globalization issues".
"The trend will continue in the future. The two countries will get closer and closer," he said.