More reservoirs to control flooding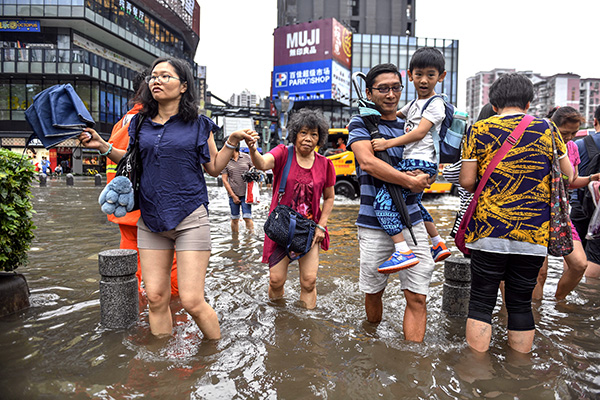 Residents wade down Jiangyan Road in Guangzhou, Guangdong province, on Wednesday. Local authorities issued a second-level alert early Tuesday as rainfall reached 210.7mm. CEHN JIMIN/CHINA NEWS SERVICE More photos
Yangtze River flood control authorities plan to increase the number of reservoirs used for flood diversion and storage from 21 to 28 to cope with potential flooding along the river basin as the rainy season approaches.
Based on hydrological studies, above-normal rainfall will hit areas along the Yangtze River during the major flood season, from June to August.
There could be big floods in the upper and middle reaches of the river and areas around Taihu Lake downstream, according to Chen Min, director of the Office of Yangtze River Flood Control and Drought Relief Headquarters.
He said people need to be warned of possible torrential rains in the middle and downstream areas of the river that could cause mountain torrents and mud flows.
The headquarters has dispatched teams to 10 provincial regions along the river to inspect preparation work for flood control, and these provinces have been informed of problems needing to be rectified, he said.
"Some of the 10 provinces haven't restocked goods and materials for flood control that were used up last year, and some should speed up their work in restoring flood control facilities that were damaged or destroyed last year," he said.
Mountain torrents have been the major cause of damage and casualties in China. Some local governments in Yunnan province, however, were found to have inadequate warning systems, and some alarms were not well maintained, he said.
Chen said the headquarters oversaw 83,934 renovation projects for damaged or destroyed facilities, including 2,394 reservoirs and 2,394 sections of dams. All provincial regions except Qinghai and Gansu provinces and the Tibet autonomous region have finished renovation work.