Crackdown takes aim at renovations in hutong
Police and demolition workers descended on a spot in Beijing known for its bars, restaurants and boutique stores on Tuesday, as the city continues its crackdown on illegal structures.
Urban management crews arrived in the morning along Fangjia Hutong, close to the Lama Temple in central Beijing, and began to brick up the door and windows of buildings earmarked for closure.
Notices placed at each end of the alley stated that the action was aimed at eliminating hidden dangers, improving residential quality and promoting the capital's image.
"We received the announcement earlier, and the business owners nearby all knew what was going to happen, but we still can't decide who to talk with about this," said Li Qian, the owner of Ramo, a Western-style restaurant.
She said she rented the building three years ago. The original door in the rear, became the door to the kitchen after renovations.
According to the city, properties along the alley should conform with property ownership certificates.
Jiang Shuo, 28, who has run a tiny clothes store in Fangjia Hutong for seven years, was resigned to closing her business on Tuesday.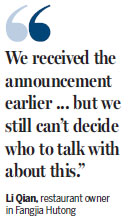 "I have all the operating licenses and tax registration permits, but when the rule came out about the property certificates I had no option but to comply," she said, explaining that she had moved the original door because of the tight space.
An official at the Andingmen subdistrict office of the Dongcheng district government said the main reason for the action was to "recover the original appearance of the hutong, which is an integral part of the capital's traditional culture".
The alley is the latest in a series of high-profile locations that have seen demolitions in recent weeks, following Sanlitun, Baochao Hutong and Dongsi. The work is part of a yearlong campaign to remove illegal buildings.
According to data from the Beijing Municipal Development and Reform Commission, more than 40 percent of the work has been completed.
The authorities say owners of ground-level homes across the city have knocked down walls and made other illegal alterations to be able to rent space to businesses. This, they say, has created safety risks and crowding in some areas.
The city allocated 10 billion yuan ($1.45 billion) for the campaign, which experts said will include reorganizing and upgrading residential retail businesses, Beijing Business Today reported.
Jiang Chenglong and Xin Wen contributed to the story.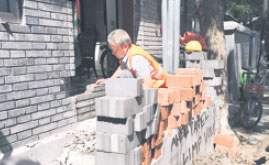 A builder finishes a brick wall in Fangjia Hutong in Beijing on Tuesday. Xin Wen / For China Daily
(China Daily 05/24/2017 page5)