Southernmost city to get new Party chief, mayor
China's southernmost city - Sansha, Hainan province - will celebrate its fifth anniversary in July and will soon have a new Party chief and mayor.
Tian Xiangli, deputy secretary of the Politics and Law Committee of the Communist Party of China's Hainan Provincial Committee, has been nominated Party chief of Sansha, which was established in July 2012, according to an announcement on Monday.
Tian, 54, a native of Jiangsu province, has a master's degree in law and an MBA.
For mayor, the nominee is A Dong, 46, a native of Liaoning province and a Hui ethnic official who has a doctorate in human geography. He is currently deputy Party chief and publicity chief of the city.
The announcement was released for public review. If no one raises concerns about the nominations, the two will be appointed.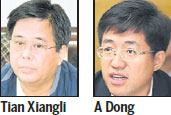 Xiao Jie, 56, the first and current Party chief and mayor of Sansha, has been elected to the Standing Committee of the Hainan Provincial CPC Committee and appointed secretary of the Hainan Provincial CPC Committee's Politics and Law Committee.
The city was established to administer the Xisha, Zhongsha and Nansha islands and their surrounding waters in the South China Sea.
With an area of more than 2 million square kilometers, Sansha has the largest sea area and the smallest land area of any city in China. It also has the smallest population of any prefecture-level city in the country - a little over 2,000.
Sansha, which is nicknamed the "city of spray" because of its proximity to the sea, is becoming a major tourist attraction comparable to the Maldives.
Over the past five years, the city government, based on Yongxing Island, the largest Xisha island, has made remarkable progress in infrastructure, transportation and protection of local ecological systems, as well as in the improvement of people's living environment, promotion of tourism and maritime search and rescue.
The city's search and rescue center rescued 113 people last year, saving both lives and assets. The center mobilized 13 vessel trips and six air flights in 21 emergencies, securing a 99.1 percent success rate, the center said.
mazhiping@chinadaily.com.cn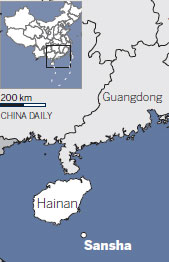 (China Daily 05/24/2017 page4)