Renovation program raises living standards in rural areas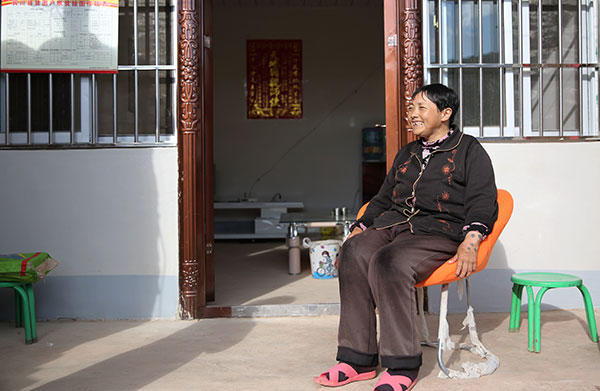 Jinhuo Buwei sits outside her new home in Binchuan, Yunnan province.[Hou Liqiang/China Daily]
Renovation model
The Binchuan government said the program has seen the homes of 1,443 poverty-stricken families rebuilt.
Last year, local governments renovated or rebuilt the homes of more than 1.5 million families, according to data released by the National Bureau of Statistics.
Cao Yuanwen, deputy director of housing and urban-rural development in Binchuan, said all the houses have been renovated to the same standard and design. The process focused on impoverished families who were unable to rebuild their houses themselves.
He said the government has also been relocating people who live in areas prone to natural disasters. Poverty-stricken families can claim a one-time government subsidy of 60,000 yuan to build houses in safer locations, while those in better financial circumstances are eligible for a subsidy of 15,000 yuan. Both groups can obtain a 20-year interest-free loan of 60,000 yuan.
Last year, 1,381 families in the county benefited from the policy.
NBS data show that 2.49 million residents of poverty-stricken regions nationwide are being relocated to better-developed areas.
Xionglumo is a mountain-encompassed village in Binchuan, with a population of 1,765. About 27 percent of the residents live below the poverty line. The government's policy has seen 54 families, about 260 people who live in areas prone to landslides, move into new houses in safer areas.
An Yuhua's family of six used to squeeze into a tiny, two-bedroom house. When relatives came to stay, the family had to rely on neighbors to provide lodgings.
"For many years, we longed to relocate to a safe area. However, in 2013, we spent all our savings and ran up debts of more than 30,000 yuan after my wife was hospitalized for two months with a persistent fever caused by a viral infection," the 31-year-old said.
Initially, An was doubtful about the government's financial support, so he declined offers of help. Later he changed his mind, and the family has now moved into a new, four-bedroom house.
"The 54 families in the village selected five residents, including me, as representatives to communicate with the designers and builders. For people like us, from the Yi ethnic group, it's essential to have a special place to worship our gods and ancestors. When we communicated that to the authorities, the designers changed their blueprints and added a special worship room," he said.
"Great changes have happened in my hometown thanks to the government's work. We used to have to ride 27 kilometers on motorbikes along a rough road to Qiaodian, the nearest township, to buy daily necessities. Often when it rained, we were isolated from the outside world for many days as it was too dangerous to ride on the muddy road," he added.
"Now the old road has been replaced with a tarmac one, so we can go to the township anytime we want. I never dared to think about owning such a good house. We believe our lives will be much better, thanks to the government's support and our own efforts."