Shanghai chooses new leadership lineup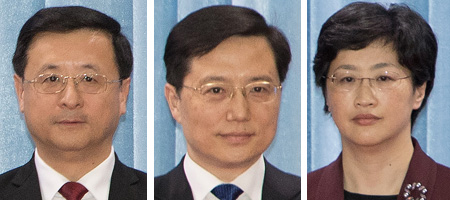 Chen Yin (left), Zhuge Yujie (center) and Shi Xiaolin


Party chief says city will continue to push economic reform and innovation
The eastern metropolis of Shanghai witnessed a new leadership lineup as the municipality's once-in-five-years Party congress concluded on Friday.
Among the newly-elected 11-member Standing Committee of the Communist Party of China Shanghai Municipal Committee, Han Zheng was re-elected Party chief, and Mayor Ying Yong remained a deputy Party chief.
Han, who has been Party chief of Shanghai since 2012, was elected to the post at the first plenary session of the 11th CPC Shanghai Municipal Committee.
Han, born in 1954, is currently a member of the Political Bureau of the CPC Central Committee. He served as Shanghai mayor between 2003 and 2012.
Notably, the new leadership had three new faces-Chen Yin, Zhuge Yujie and Shi Xiaolin.
Zhuge, born in May 1971, is the youngest of the 11 members. He has been head of the general office of the CPC Shanghai Municipal Committee since July.
Chen, 54, has been deputy mayor of Shanghai since May 2016, and 48-year-old Shi, now Party chief of Putuo district, is the only woman in the city's new leadership, according to official documents.
The 11 members made their public debut on Friday afternoon. On behalf of the newly elected members, Han said that the Party congress set the goals for the city's development in the coming five years, and the city and its people will have a more brilliant future.
He said Shanghai will continue to push forward economic reform and make historic leaps in innovation-driven development and economic transformation and upgrading.
"Shanghai strives to place itself in the world's top echelon of economic, financial, trade and shipping centers by 2020, become more influential among the world's metropolises and enhance the living and working conditions of its residents so that the fruits of the city's reform and development will benefit all its residents," Han said.
He also said the new leadership will rigorously promote the work of comprehensively strengthening Party discipline, enhancing the level of the Party's leadership and capability for governance.
More than 800 deputies to the congress, representing all CPC members in Shanghai, attended the five-day meeting.
They also elected deputies from Shanghai who will attend the 19th CPC National Congress, which is scheduled in the second half of this year in Beijing.