Palace Museum plans web-only tickets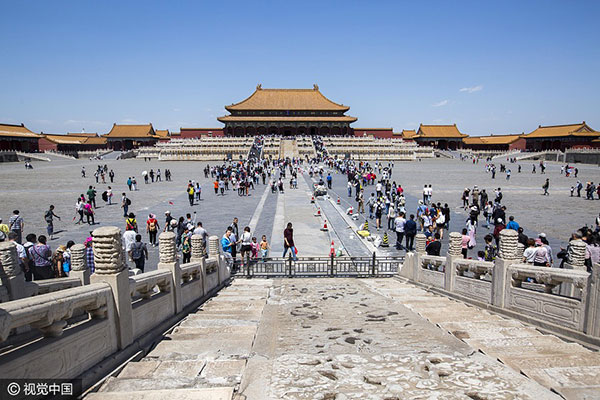 Tourists visit the Palace Museum in Beijing, May 6, 2017. [Photo/VCG]
The Palace Museum in Beijing, the most visited museum in the world each year, plans to stop selling paper tickets from its box office, perhaps by later this year.
Shan Jixiang, the museum's director, said an Internet-based system will be set up to better coordinate the number of visitors for different hours of the day.
The new plan is preliminarily scheduled to be launched in an "appropriate time after late October", but he said it still depends on whether conditions allow. Starting in July, the museum will gradually decrease the percentage of tickets available at physical box offices.
The Palace Museum opened its online ticket system in 2011, and its statistics show nearly half the tickets are sold via the internet. The tickets sold in the box office in the first quarter of 2017 decreased by about 10 percent from the same period a year earlier.
"As the public recognition for online tickets has kept rising in recent years, there is a foundation for our plan," Shan said.
The Palace Museum, China's former royal palace from 1420 to 1911 and also known as the Forbidden City, received more than 16 million visitors in 2016.
The museum set a daily quota of 80,000 visitors in 2015 due to safety concerns caused by overcrowding.
Shan said the change is another way to handle the crowds.
The current online booking system allows visitors to buy tickets only for the following days, but Shan said visitors now will be able to buy same-day tickets during the off-season, which is November to March.
Shan said the museum will work with online booking platforms and mobile apps, as well as digital payment channels such as Alipay and WeChat Wallet.
"For those people who are not familiar with online payments, we'll leave some windows of box office open to help them," he said.
Shan said its online payment system will have English and other language versions to assist foreign visitors.
Still, the change is not welcomed by all.
"It's unfair because not all Chinese people are netizens," said Mo Yao, 29, an office worker from Hangzhou, capital of Zhejiang province, who recently visited the Palace Museum. She did say her shopping was heavily de-pendent on online payment. "At least, some tickets should be reserved for those preferring a traditional way of purchasing.
"And, if people come to Beijing and suddenly have a desire to admire the splendor of the Forbidden City, how will they feel if they are refused?"
A response given by the Palace Museum is that "staff will patiently explain for those who don't know the policy".
According to Pan Shou-yong, a museology professor at Minzu University of China, it is premature to map out the policy. His team once conducted research showing that about 80 percent of people going to the Palace Museum were first-time visitors.
He said that while some overseas counterparts, like the Louvre museum, also have online ticket systems, none use the system as the exclusive means to sell tickets.
"It's ok if paper tickets are no longer printed, but current studies don't endorse such a plan entirely depending on online booking," Pan said.