Villagers' health in hands of dedicated medic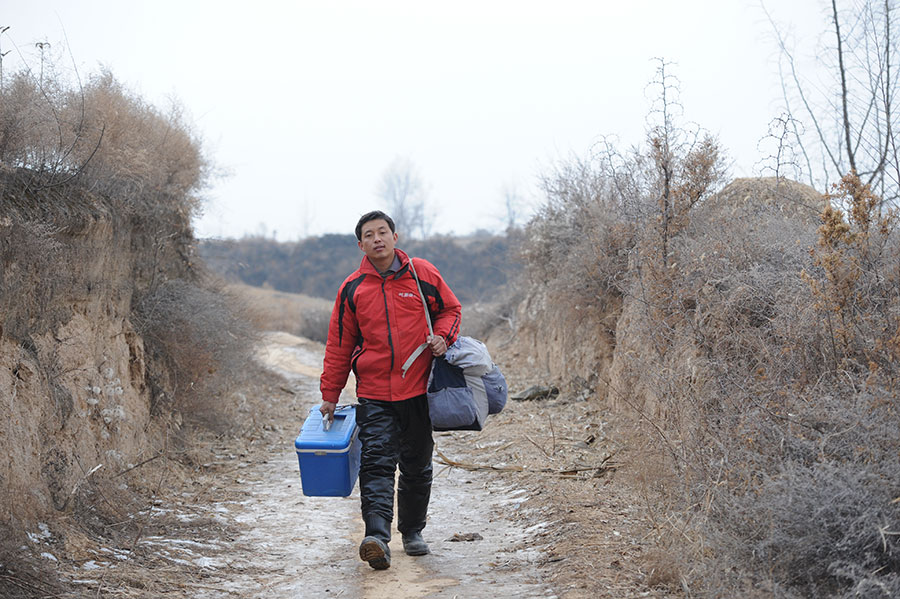 Barefoot doctor He Xinglong has made 170,000 trips in the mountains, covering more than 400,000 kilometers, to visit patients at home in the past 17 years.[Sun Ruisheng/China Daily]
Chen Cuiping, He's wife and mother of their two children, said: "He always answers his phone. No matter how bad the weather is or how far away a patient is, he always tries his best to reach the patient's home as soon as possible. He has done this for the past 17 years."
Chen and He were classmates at nursing school and fell in love during their time as interns at the county hospital. "He was so thoughtful when he treated patients that I knew he would treat his family well too," Chen said.
However, He often apologizes to Chen, saying his wife, children and parents are the people he has neglected the most.
Asking nothing in return, He has established health records for all villagers in Letang, and provided vaccinations for the 1,028 children in the entire area. He also takes care of 13 elderly villagers who live alone.
He was once awarded 5,000 yuan by the provincial government, which he spent in addition to 800 yuan of his own money to buy farm tools and generators for the villagers.
"The farmers are much more health conscious now, which is extremely satisfying for me," he said.
But He's commitment to helping others has taken its toll on his own health. He has developed rheumatoid arthritis and scoliosis, due to carrying medicine, as well as chest pain and erosive gastritis.
His many years of hard work and dedication have resulted in him winning awards recently, which is a concern to the villagers. "Please send a message to the authorities. We will not allow them to move He elsewhere," one villager said.
However, He said he has no intentions of leaving: "I will never move. My roots are here."