Photos help forge connections
Student used art form to bond with locals in quake-struck Nepal
Yu Zhehao, a student majoring in journalism at Southwest University of Political Science and Law in Chongqing, seldom used his high-tech camera until he visited Nepal in February to take photos of earthquake victims.
"I didn't have much interest in photography," he said. "I hadn't figured out the purpose of it, but I think I found the answer in Nepal."
During his 15-day trip to Kathmandu, capital of the South Asian country, Yu took pictures of 96 children and 76 families at the Chuchepati relocation camp, which was built for the survivors of a devastating magnitude 8.1 earthquake that struck the nation on April 25, 2015.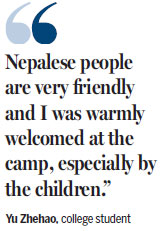 Many photographers had visited Nepal to take pictures of the locals, but few bothered to let the subjects see the images they captured. So Yu decided to print all the pictures he took and give them as gifts.
"Most of them had never seen a camera or had a photo of their own," said the 25-year-old, who was born in Changzhou, Jiangsu province.
"For the earthquake victims to have a family photo is a special blessing. In China, we believe a family photo brings luck and happiness."
When Yu learned about the camp in Nepal, he knew he had to visit. He decided to go alone, packing his camera along with a tripod, a flash, two lenses, a portable photo-printer and 360 sheets of photo paper.
It was his first trip to Nepal, but he did not have time to visit any scenic spots. Instead, he stayed at a hotel in downtown Kathmandu and visited the camp every day.
As the adults worked during the day, he could only shoot family photos in the evening. During the day, he took pictures of the children at the camp.
"Nepalese people are very friendly and I was warmly welcomed at the camp, especially by the children," he said. "They were so happy to see the photos that I printed out for them."
Yu soon set up a small volunteer team of six children to help him with his family photo project. Some carried equipment, some used cellphones to light the road and others coordinated with the families.
"We must gather all the members of each family together, otherwise they are not true family photos," he told the volunteers.
An old Nepalese man made the biggest impression on Yu. The man followed him every evening while he was shooting the family photos. Yu later learned that the old man had lost all his family members during the earthquake and now lived by himself, so Yu took a photo of the man and gave it to him.
As a reward for his volunteers, Yu gave three photography classes at the camp. He taught them how to use a camera, taking pictures of a dog and each other. Their last assignment was to take a photo of an important person in their life and write something about that person on the back of the photo.
"I wanted to teach them how to express love and appreciation as well as the purpose of photography," Yu said. One boy took a picture of Yu and wrote, "I wish you could stay."
Eventually, Yu ran out of photo paper and had to conclude his trip.
"It was a pity. I wish I could have taken more," he said.
Motivated by his experience, Yu plans to continue his family photo project at home and abroad.
"I want to gather more photographers and take pictures of Chinese migrant workers during Spring Festival," he said. "Also, I will probably go back to Nepal."
tanyingzi@chinadaily.com.cn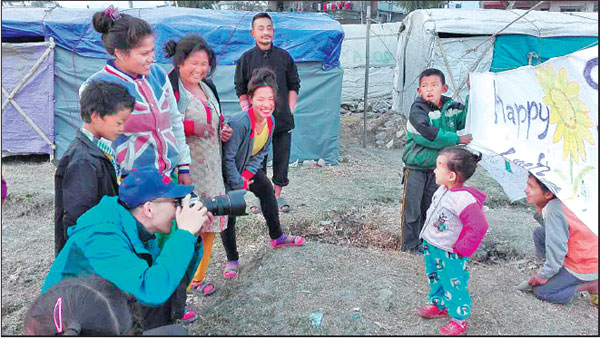 Yu Zhehao takes photos of children at the Chuchepati relocation camp in Kathmandu, Nepal.Provided To China Daily
(China Daily 04/26/2017 page7)