Pilot jury program may be extended
Test aims to find best way to select juries for trials in Chinese courts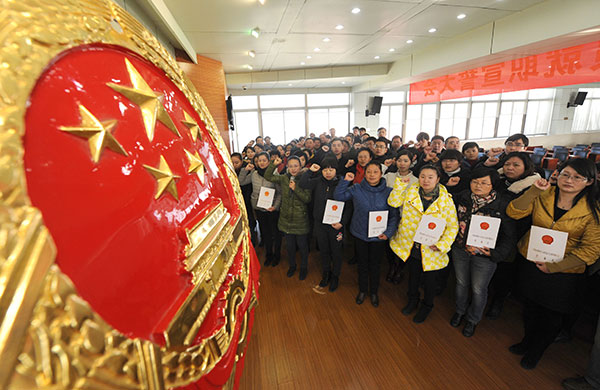 Jurors are sworn in as they face the Chinese national emblem in Hefei, Anhui province. XIE CHEN/CHINA DAILY
A pilot program for jurors in Chinese courtrooms may continue for an additional year.
Shen Deyong, vice-president of the Supreme People's Court, applauded the achievements of the pilot program, launched in 50 courts in 10 provincial regions, including Beijing, Hebei and Chongqing, in April 2015, but he also said that some problems need more time to be solved.
Last year, 81,772 cases in the 50 courts relied on jurors, of which 64,917 were civil disputes and 11,642 were criminal matters, a draft proposal to extend the pilot program said.
Courts were encouraged to hear jurors' opinions on cases involving the public interest or that might influence society, the draft said. It was submitted to the National People's Congress Standing Committee on Monday.
"In the pilot program, we hoped jurors would share their opinions on the facts of the case instead of legal issues, but so far we have no system to clarify the difference between the two," he said.
"Meanwhile, we hoped that jurors would be selected randomly instead of chosen from a group of candidates recommended by local communities and authorities, but in reality we found it harder to find those with professional backgrounds, such as medicine or architecture, through a random selection."
"That's why some legal experts and NPC deputies suggested that we continue to use recommended candidates," he said.
Extending the pilot also aims to increase public participation in legal proceedings and improve the credibility of court rulings, Shen added.
In 2015, the top court decided to rethink the selection procedure and allow more people from different walks of life to take part in court hearings. It increased the minimum age for jurors from 23 to 28 but lowered educational requirements for the pilot program.
Before the pilot, jurors in China were mainly chosen through recommendations, unlike the jury system in the United States, for example, which randomly creates a large jury pool that lawyers whittle down to a smaller number of acceptable jurors to hear a case.