Novel concept bridges worlds with translations to English
"Master Ren" - as he is known online - has become an international sensation for his masterful translations of Chinese fantasy novels into English.
The 31-year-old Chinese-American, whose pen name is Ren Woxing - real name Lai Jingping - aspired to "do something for Sino-US relations" after graduating from University of California, Berkeley.
First, he joined the US Foreign Service. Then, he translated fiction.
He is said to be the first to translate a Chinese web novel as long as 3.4 million words. It was arranged into 804 chapters.
He updated his chapter-by-chapter translations free on the online forum SPCNET, where fans discuss and share translations of particular works.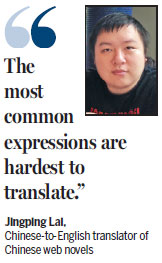 That was a year and a half of diligent translation, a "life-changing ... heck of a ride", Lai said.
The popularity of the work inspired him to launch website wuxiaworld.com in December 2014. It had received over 1 billion visits as of August.
He quit his diplomatic position in Vietnam at the end of 2015, with overwork's strain on his health requiring him to choose one path or the other.
"My parents happened to be visiting, and they saw the state I was in. They knew I wouldn't give up wuxiaworld. Their only concerns were about my previous career," he said.
He views his work facilitating Chinese online-novel translation as a continuation of his mission to connect China with the outside world. His website offers English translations of 40 novels, most of which are web literature, including Coiling Dragon, which was successful overseas.
Each month, about 2 million visitors from 115 countries read the novels translated by Lai's team of 24, he said.
Lai's family moved to the United States to pursue chemistry doctorates in 1986, three years after he was born.
"They hoped I'd also study hard science," he said. "I chose political science instead."
He spoke Mandarin as a child, but could not write Chinese. Still, he wanted to read more kung fu novels because he loved the films and TV series. He took three years of Chinese language classes at Berkeley, while translating and discussing Louis Cha's novels on SPCNET.
"The most common expressions are hardest to translate," he said.
Years of experience sharpened his language skills and enriched his understanding of China and kung fu, and he dramatically sped up the translation of Coiling Dragon.
"The characters' Western names attract more English-language readers," he said.
He was providing his service free of charge, but some readers began offering donations for quicker translations. Lai recognized an opportunity.
"I did what I promised," he said. "This resulted in a virtuous - albeit exhausting - cycle of continuing to translate new chapters. More readers, more donations, more translations."
Coiling Dragon has brought Chinese fantasy web novels "to the forefront" internationally, he added.
Lai obtained the rights to do the translations of novels last year. His website is advertising-supported and provides a living, he said.
Peking University online-literature researcher Ji Yunfei said Lai's team members can earn $10,000 a month, and expects that will increase.
"Lai has established his operating model," Ji said.
Lai said: "My dreams are big, but my methods are risky." The difficulty is getting published in the US, especially in print. "Also, web novels aren't simply entering the US market. They're forging a new market," he said.
meijia@chinadaily.com.cn
(China Daily 04/24/2017 page5)