Country to draft job skills plan with BRICS partners
China plans to draft a skills-training action plan with other BRICS nations, Hao Bin, an official of the Ministry of Human Resources and Social Security, said on Wednesday.
The action is aimed to get rid of poverty and enhance cooperation of labor and employment research organizations so that developing countries have a greater voice in global governance.
Hao, who is the ministry's director of international cooperation, spoke at the 2017 First BRICS Employment Working Group Meeting, a preparatory meeting for a conference of labor and employment ministers of BRICS countries - Brazil, Russia, India, China and South Africa. The conference will be in Chongqing in July.
"China plans to get rid of poverty and build a moderately prosperous society by 2020," Hao said. "Skills training is one of the approaches for meeting the challenging target.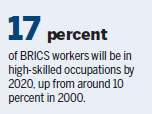 "Meanwhile, poverty is also a problem for other BRICS states. We hope we can work with others to draft an initiative or action plan to lift people out of poverty with the help of skills training."
With inadequate capacity in labor and employment research, developing countries have a weak voice in global governance compared with Western countries, he said.
He said the BRICS countries need to harmonize their positions on a series of common concerns that have arisen with technological innovation - for example, the unbalanced labor structure, how to protect the rights and interests of laborers, and the sustainable development of the social security system.
Steven Kapsos, head of data production and analysis at the International Labor Organization, said, "In comparison with the rest of the world, the BRICS region has seen a much larger structural transformation since 2000, which has led to a higher share of employment in industry and an increasingly skilled workforce.
"By 2020, we project that 17 percent of BRICS workers will be in high-skilled occupations, up from around 10 percent in 2000.
"Skills and education policies must take these trends into account to ensure that workers in BRICS countries have the skills that are in demand in the labor market."
He added that the informal economy - sectors that are not taxed or monitored - is "another significant challenge" in some BRICS countries.
"Where data are available, the informal economy represents a considerable, although wide-ranging, share of the labor market."
Representatives of other BRICS nations also called for enhanced cooperation in information sharing to deal with the new situation.
Sipho Ndebele, chief director of South Africa's Department of Labor, said it's "very critical" to unify the labor market indicators - for example, how unemployment is measured - so that BRICS countries will be able to develop responses that can help solve challenges of common concern.
He said he hopes China, which has a large population and massive challenges in employment, will share its experience with other BRICS countries as references for them to respond to challenges.
houliqiang@chinadaily.com.cn
(China Daily 04/20/2017 page4)