Mother drives revival of forgotten art form
From a hobby to a business, a retired teacher and her daughter sell their works at home and abroad
From a distance, it looks like a normal traditional Chinese ink wash painting, but up close, it appears to be a piece of embroidery stitched with silk thread.
"This is feather art," Xu Nannan, the master of the artwork, said at her studio in the southwestern municipality of Chongqing.
As early as about 2,500 years ago, during the Spring and Autumn (770-476 BC) and Warring States (475-221 BC) periods, the Chinese began to create pictures using bird feathers.
This art form reached its peak during the Qing Dynasty (1644-1911), but due to various reasons, the skill was not handed down to subsequent generations.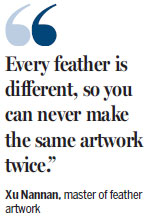 Xu, a retired kindergarten teacher, knew nothing about feather art until she saw her 6-year-old daughter, Gu Qian, use a chicken feather to create a butterfly.
"Her feather creation was interesting and it inspired me," Xu recalled.
Xu then started to use feather painting as a teaching tool in her classes, and her beautiful artwork won her first prize in a local handicraft competition in the 1990s.
"I started it as a hobby, but many people encouraged me to take it seriously," she said. "At that time, no one made traditional Chinese feather art in China."
With no textbooks or training materials on this subject, Xu tried to utilize similar skills used in the creation of straw patchwork and fishbone art. She also started to learn about traditional Chinese painting.
She was named the Folk Art Master of Chongqing in 2001 and was invited to perform at the 2010 Shanghai World Expo.
Unlike other forms of feather art in China, which use brushes and ink to complete the artwork, Xu only creates with feathers.
The main themes of her feather art are common subjects in traditional Chinese paintings, such as flowers, trees, birds, fish and mountains.
"The color and texture of feathers are most suitable for such subjects," Xu said. "You cannot use them to create portraits."
Xu only uses the feathers from domestic birds, such as chickens, ducks and pigeons.
"They are easy to find and it is a way of making use of something that would otherwise be considered useless," she said.
Finding the right feathers is the key to success, so Xu visits a local market regularly to collect feathers from poultry sellers.
"I only collect chicken feathers from free-range chickens," she said. "The ones from chicken farms don't have good texture or color."
The season is also important. "Birds have thick feathers in winter and thinner ones in summer," she said.
The feathers are sorted and stored in a dry place after being cleaned, degreased and deodorized, and are usually used about a year later.
In her studio, there are hundreds of boxes of various feathers divided into color, shape and texture.
"Every feather is different, so you can never make the same artwork twice," Xu said.
She recalled that a few years ago, she got hold of some exquisite pigeon feathers and made them into a beautiful peony flower.
"The colors were so rare and beautiful," she said. "I don't think I will find such feathers again."
In 2008, Xu's daughter decided to learn feather art after graduating from university.
Now the mother-and-daughter studio has been turned into a small art company, with their works having been sold at home and abroad.
Gu said they have no plans to expand the business or recruit more people.
"We like the way we work, just the two of us and feathers," she said. "I feel so humble in front of nature and I treat every feather like a human. My mission is to find them a suitable place in my artwork."
tanyingzi@chinadaily.com.cn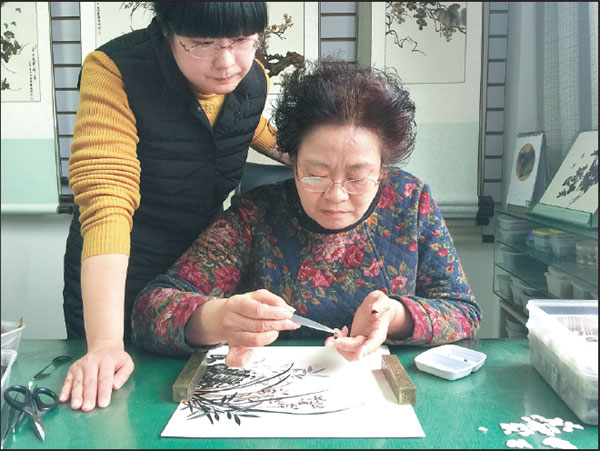 Xu Nannan and her daughter create feather artwork at their studio in Chongqing.Photos By Tan Yingzi / China Daily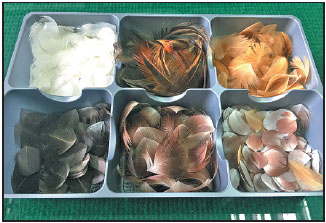 A collection of feathers at Xu Nannan's studio.
(China Daily 04/19/2017 page10)