China's most beautiful countryside forges new tourism engine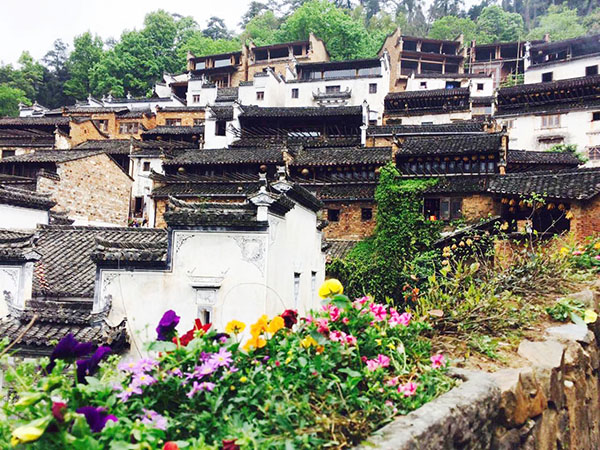 The ancient Hui-style architecture is seen in Huangling Village of Wuyuan County in China's Eastern Jiangxi province, April 16, 2017. [Photo by Liu Xiaozhuo/chinadaily.com.cn]
Wuyuan County in East China's Jiangxi province, well-known as China's most beautiful countryside, strides to explore innovative modes to add new energy to its tourism industry development.
Wang Chunhui, the head of Wuyuan County's Tourism development Commission, said most tourists visit Wuyuan in March and April every year to enjoy a sea of rapeseed flowers.
"But the rapeseed flowers bloom only for a short period of time, and when the flower season ends, Wuyuan's tourism undergoes a big slide down," Wang said.
Besides, Wuyuan is not the only region in China where tourists can catch a glimpse of rapeseed flowers in blossom.
"The competition of rapeseed flowers tourism is very furious in China," Wang added.
To extend the time of popularity and attract more tourists' attention, the county has decided to transform industries and apply new modes to improve the county's tourism.
Wang said Wuyuan Country, besides its beautiful natural environment, also features rich cultural deposits of ancient Huizhou. "We are trying to combine and optimally use all the tourism resources and build Wuyuan into a big scenic region where tourists can enjoy themselves at any time of the year," Wang said.
Wuyuan's Huangling Village, where countless rapeseed flowers blossom in the spring, has made progress in enriching tourism. The history of the village dates back to the end of the Ming Dynasty (1368-1644) and the beginning of Qing Dynasty (1644-1911).
Wuyuan Countryside Development Company, the owner of Huangling Village scenic region, is now transforming the ancient town into a flower town.
Wu Xiangyang, president of Wuyuan Countryside Development Company, said the company is combining nature and culture, utilizing the ancient Hui-style architecture and extending the amount of time flowers are in blossom.
"The protection of ancient architecture is a core piece of our work," Wu added.
Another mode is adding night tours. "Tourists can enjoy the flowers and ancient architecture in the daytime and watch performances in the evening," Wang said.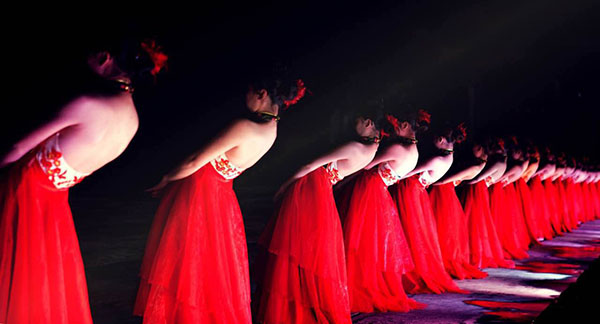 Performers dance in the show Dreaming in Hometown. [Photo provided to chinadaily.com.cn]
The popularity of real-life scenery performance Dreaming in Hometown is on the upsurge among tourists coming to Wuyuan, according to Zhao Changjun, director of the Dreaming in Hometown project.
"The show conveys traditional cultural values of Wuyuan in artistic ways. More importantly, the show is at night and tourists can have the unique experience of a night tour," Zhao said.