Discovering the secrets of the dead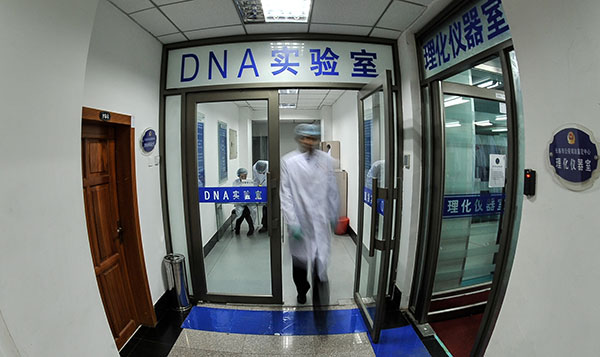 Forensic experts work at a DNA laboratory of the public security department in Changchun, Jilin province.Wang Haofei / Xinhua
Unlike most Chinese, Qin Ming does not shy away from the subject of death. In fact, "talking with the dead" is part of his daily work.
Qin, 36, is a forensic expert with the public security department of Anhui province in East China. He shot to fame last year after his suspense novels, which he based on real cases, were adapted for TV.
"The concentration needed to examine a crime scene or conduct an autopsy is always rewarded when a suspect is identified. That is the appeal of the job," he said.
"Although the stress is more than most could stand - and I often complain - I still love the work."
Forensic medicine has a long history in China. Collected Cases of Injustice Rectified, which was written during the Song Dynasty (960-1279), is believed to be the first forensic science book ever.
Because his birthday is Jan 10, many of Qin's friends say he was born to be in the police as 110 is the emergency number in China. His father had been a police officer and he encouraged his son to follow suit, but Qin went to study forensic science at Wannan Medical College, Anhui, instead.
It was during his time there that he saw his first dead body - a classmate who had been stabbed in a mass brawl. "I was shocked," Qin recalled, adding that police caught several suspects, and the coroners helped them identify the killer.
Many years later, he wrote about this experience in his first novel - Voice of the Dead. In his role with the provincial public security department, Qin is only summoned to attend serious investigations. Each year he examines about 40 or 50 bodies. "In a sense, China is pretty safe," he said.
One of his most difficult cases was the killing of an entire family. "We spent 19 days looking for DNA to link it to a suspect," he said.
Han Ying, 28, is the only female coroner in Yongqing county, Langfang in North China's Hebei province.
"We work on all kinds of cases - traffic accidents, suicides and even theft," she said.
Han grew up watching crime dramas and dreamed of being a policewoman since she was little.
A graduate from Hebei Medical University, she refused a job as a doctor to become a coroner, despite the salary on offer being much lower. Even when pregnant, Han continued to work as a crime-scene coroner, despite the conditions being far from luxurious.
"There are no toilets out in the wild," she said.
Many Chinese believe dead bodies can bring bad luck and Han's parents begged their daughter to take a break from work while she was pregnant. She pretended to agree for their peace of mind, but continued to work regardless. "Every time I went to a crime scene, I put the police badge on my tummy and whispered: 'Mom is a policewoman. The police will protect you,'" she said.
Forensic science is not easy work. Qin once worked for 10 hours straight on a homicide case that had been elaborately disguised as a traffic accident. The stress and exertion gave him a herniated cornea.
Many forensic experts also struggle with the psychological strain of the job.
If the victim is a child or died unnecessarily, Qin said he often feels depressed and uses sleep to numb the pain.
"The job offers me a good opportunity to reflect on life," he said.
Han said seeing so much death made her love and cherish her own life more.
"The topic of death still remains a taboo for many, who believe that coroners bring bad luck," Qin said.
Han is no stranger to people who refuse autopsies on their relatives, or refuse to accept the results. "I understand their sorrow, but it still saddens me that I am not being understood. We work hard without rest to find out the truth for them."
However, both admitted that as TV shows like Crime Scene Investigation and Bones become increasingly popular in China, people's attitudes toward their occupation are also changing.
When Qin was in college, there were only nine universities in China that offered forensic science courses, with about 300 graduates each year. Many coroners have a medical science major.
Thankfully, advances in technology are at least making forensic science more precise. "It is much easier to find forensic evidence now, we can often lift cells from things touched by suspects," he said.
Despite all the changes, one of Han's habits remains unchanged: every time she has finished examining a crime scene, she wipes off the dust from faces of the dead and arranges their hair.
"No one knows better than us how to respect the dead," Qin said. "By finding out the truth, we are preserving the dignity of their last moments."