Bronze chariots to shine in new digs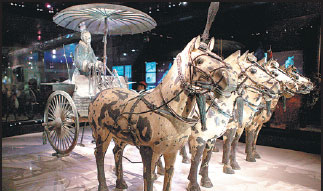 A bronze chariot is on display in Emperor Qinshihuang's Mausoleum Site Museum.Photo Provided To China Daily
XI'AN - Bronze chariots that belonged to the first Chinese emperor will get new luster when they are lifted from a cramped subterranean showroom at a major museum to a new exhibition hall above ground.
Emperor Qinshihuang's Mausoleum Site Museum, home to the 2,000-year-old Terracotta Warriors, will build the new hall for the horse-drawn chariots as part of an overhaul this year designed to accommodate a surge in visitors to the site, said Zhou Kuiying, deputy director of Shaanxi Provincial Administration of Cultural Heritage.
Zhou said that the underground showroom is too crowded during peak season.
The renovation's timeline and other details have yet to be disclosed.
Emperor Qinshihuang, who died in 210 BC, is remembered for unifying China and joining segments of the Great Wall to form an unbroken military barrier. He had an army of clay warriors and horses created for the afterlife.
The terracotta army figures around his mausoleum represent one of the greatest archaeological finds of modern times. It was discovered in Lintong county, 35 kilometers east of Xi'an, in 1974 by farmers who were digging a well. The mausoleum was later declared a national heritage site and a UNESCO World Heritage site.
The museum received about 2 million visitors annually before 2012. In 2016, 5.6 million people visited.