Beijing hopes remark by US on ties signals 'new starting point'
Beijing has said it would like to see China-US ties "achieve greater development on a new starting point", in response to a recent positive remark by US Secretary of State Rex Tillerson on the relations.
In his first official visit to Beijing last weekend, Tillerson said the US-China relationship has been a very positive relationship built on the spirit of "nonconflict, nonconfrontation, mutual respect and win-win cooperation".
Foreign Ministry spokeswoman Hua Chunying said on Wednesday that the spirit of the remark echoes the recipe for development of China-US ties in recent years, and such thinking "deserves being handed down and developed by both sides".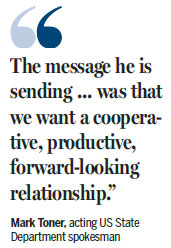 During Tillerson's visit, the two sides reached a clear consensus on developing the ties based on such a spirit, Hua said at a daily news briefing.
Some observers noted that such a stance affirmed by Tillerson has long been the core feature of China's position about developing a new model for major country relations.
"This is not about who triumphed, but is the right way of how China and the US, as two major countries, get along with each other," Hua said.
Beijing is ready to further promote mutual understanding and trust, properly tackle differences and expand the two nations' cooperation in bilateral, regional and global contexts, Hua added.
Acting US State Department spokesman Mark Toner said Tillerson was "aware of his word choice" when he twice used language that was identical to that of Chinese leaders about the US-China relationship.
"I think the message he is sending or he tried to send in his visit to Beijing, writ large, was that we want a cooperative, productive, forward-looking relationship with China," he told a news briefing on Monday.
Tao Wenzhao, a senior researcher of US studies at the Chinese Academy of Social Sciences, noted that President Xi Jinping elaborated on the spirit in his meeting with then US president Barack Obama in 2013 in California.
"I believe that with all the positive signals given out during Tillerson's visit, the uncertainties haunting the China-US relationship will be significantly reduced," Tao said.
Contact the writers at zhaohuanxin@chinadaily.com.cn
(China Daily 03/23/2017 page1)