Li to focus on trade while in Australia, New Zealand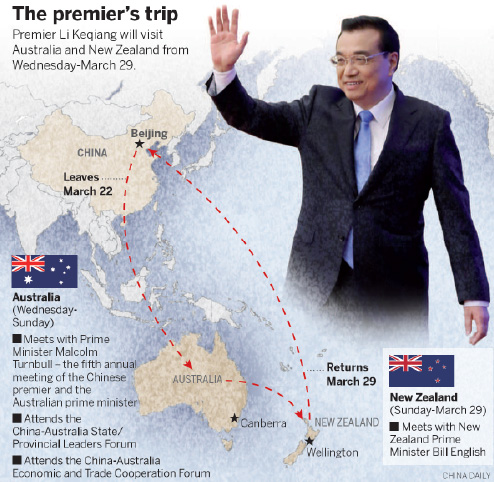 Premier looks to expand economic relationships, strengthen cooperation
China said it is willing to work with Australia and New Zealand to push for an early agreement on the Regional Comprehensive Economic Partnership, as Premier Li Keqiang kicks off a visit to the two countries on Wednesday.
The eight-day trip, the first by a Chinese premier in 11 years, will send a positive signal that China, Australia and New Zealand will promote the liberalization of trade and investment amid the rising trend of protectionism, Vice-Foreign Minister Zheng Zeguang said on Tuesday.
"All three countries are beneficiaries, advocates and participants of Asia-Pacific regional cooperation," he said, adding that China is willing to make its contribution to the region's economic development and cooperation.
While in Australia from Wednesday through Sunday, Li will meet with Prime Minister Malcolm Turnbull-it will be the fifth annual meeting of the Chinese premier and the Australian prime minister. Li and Turnbull will discuss aligning their development strategies, promoting cooperation in areas such as technological innovation, trade and investment and cultural exchanges.
They will talk about making better use of the China-Australia Free Trade Agreement, in place since 2015, to produce more benefits, Zheng said.
Two-way trade volume between China and Australia exceeded $107.8 billion last year, far more than in 1972 when the two countries established diplomatic ties.
According to Zheng, technological innovation is a new highlight of bilateral talks, as "it could provide a strong impetus to cooperation in trade and the economy, as well as other areas".
"We have confidence in China-Australia economic and trade cooperation, and we are willing to tap its potential for diverse and sustainable development in the future," he said.
From Sunday to March 29, Li will visit New Zealand and meet with Prime Minister Bill English.
They discuss promoting cooperation and developing a comprehensive partnership. China and New Zealand have set a good example of cooperation between countries with different social systems since they established diplomatic ties 45 years ago, Zheng said.
The two countries announced in November that they will start negotiations on an upgrade of their free trade agreement, initially signed in 2008. It is the first free trade agreement China signed with a Western developed country.
"We hope both sides will take the FTA upgrade talks as an opportunity to bring more openness to trade and investment," Zheng said. He said China hopes the nations can reach consensus on new topics, such as service trade and electronic commerce "for an upgrade of bilateral cooperation and a driving force to regional economic growth".