Trump won't ruin US-China relationship, says former Aus PM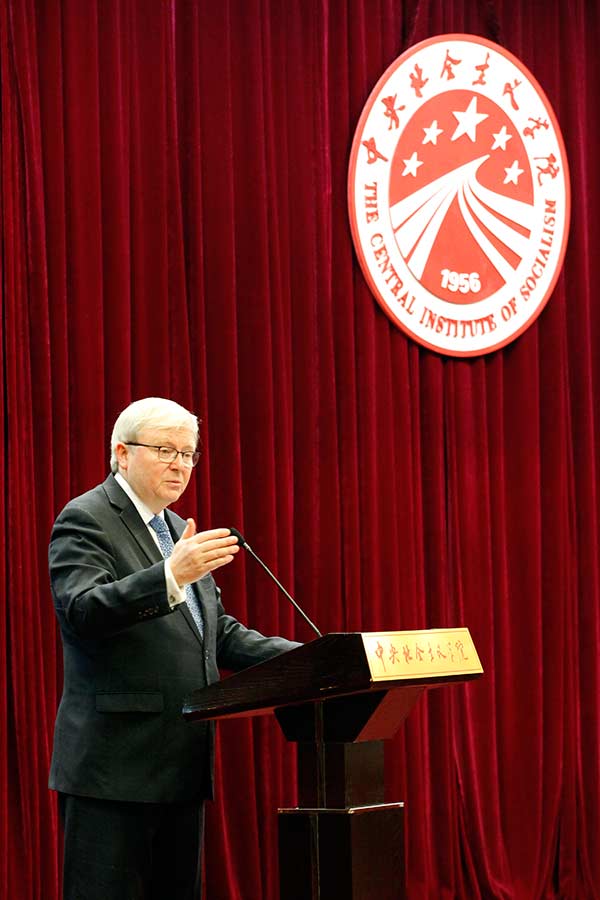 Kevin Rudd makes a speech at the Central Institute of Socialism, March 20, 2017. [Photo/chinadaily.com.cn]
Former Australian Prime Minister Kevin Rudd says maintaining the relationship between China and the United States is necessary as the two largest economies of the world try to build mutual trust.
Rudd, a keen China watcher and now a senior researcher on international relations at Harvard University, said "the two countries differ on many issues and they need to talk to maintain common interests."
He made the comments in a lecture at the Central Institute of Socialism in Beijing on Monday. In the lecture, he talked about the possible strategic choices of US President Donald Trump and their possible influences on the future of China-US relations.
Rudd said that no matter what Trump thinks about China, China must be bold enough to face it directly, because even Trump cannot afford to ruin the relationship between the two superpowers. He was quite confident about China and the US improving their mutual trust with US Secretary of State Rex Tillerson's visit to China.
"It is too early to tell what will happen during Trump's term to the relationship between Washington and Beijing," he said in conclusion. "But it definitely won't be as bad as some people predict."