Li, Netanyahu discuss free trade agreement
Speedy pact between China, Israel would benefit both, leaders say
China and Israel agreed to gear up negotiations on a bilateral free trade agreement during talks Monday between Premier Li Keqiang and Israeli Prime Minister Benjamin Netanyahu in Beijing.
The two leaders cited the need to speed up negotiations even as bilateral trade exceeded $11.3 billion last year and Chinese investment in Israel has surpassed $6 billion.
Li said China is ready to gear up the talks and "strive for finishing the negotiation at an early date".
Netanyahu echoed Li's call for speeding up the talks. He said Israel is ready to boost cooperation on innovation and it welcomes Chinese enterprises taking part in Israeli projects.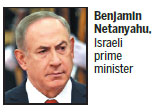 Li also noted China's free trade negotiations would speed up with the Gulf Cooperation Council, made of Saudi Arabia, Kuwait, the United Arab Emirates, Qatar, Bahrain, and Oman. A clear signal should be sent to the world about safeguarding free trade, Li said.
Li and Netanyahu witnessed the signing of four documents on economy, science, commerce and civil aviation.
The Israeli leader is on his third visit to China through Wednesday.
China is Israel's largest trade partner in Asia and its third largest overall. The two countries embarked on their first round of negotiation on the trade pact in September.
Deng Li, director-general of the Foreign Ministry's Department of West Asian and North African Affairs, said the two leaders have agreed on three tasks in the near future - infrastructure cooperation, free trade and China-Israel cooperation involving third parties.
The two sides are in agreement regarding the infrastructure sector and their agreement to work with third parties would be a boost internationally, Deng said.
In the talks on Monday, both Li and Netanyahu highlighted cooperation in innovation. Li called for deepening collaboration in fields such as basic sciences, modern agriculture, clean energy and biopharmaceuticals.
Wu Yang, Chinese director at the Confucius Institute of Tel Aviv University, observed that what China should learn from Israel is their dedication to sectors of low pollution and high revenue, which helps the country tackle its limited natural resources.
Wu noted that behind Israel's leading role in technological innovation is the huge input of education resources offered by the country to its citizens, and China should further nurture its talents that drive innovation.
zhangyunbi@chinadaily.com.cn