Li says trade friction should be tackled through dialogue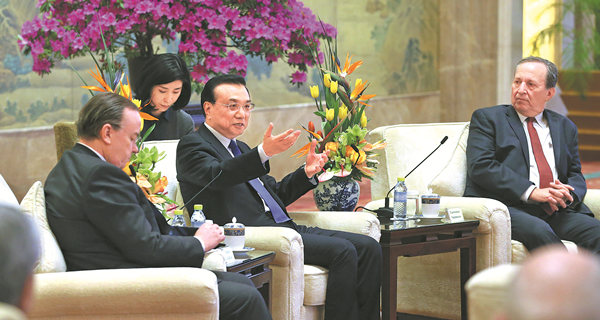 Premier Li Keqiang leads a meeting of overseas enterprise representatives including Stuart Gulliver, CEO of HSBC (left), and former US Treasury secretary Lawrence Summers, during the China Development Forum in Beijing on Monday. Wu Zhiyi / China Daily
China will open doors wider to investment, overseas enterprises told at forum
China firmly promotes trade liberalization and investment by safeguarding multilateral trade as a main channel for economic growth and by building an open and transparent regional free trade framework, Premier Li Keqiang said on Monday.
The nation's economy has become deeply integrated with the global economy, and the country will further open up to foreign investors, the premier said. In the process of globalization, all countries should use their advantages and tackle trade frictions and differences through dialogue and negotiations, he added.
Li spoke to more than 100 overseas representatives from the world's top enterprises, research institutions, international organizations and media as part of the 2017 China Development Forum in the Diaoyutai State Guesthouse in Beijing. The three-day forum ended on Monday.
The premier took questions from participants such as former US Treasury secretary Lawrence Summers on free trade, market openness, the internet industry and innovative development.
China's doors will open wider to foreign investment by further lowering the access threshold in such sectors as services, manufacturing and mining, Li said. Procedures will be further simplified for overseas applicants who seek to start businesses in China, he added.
All enterprises registered in China will be treated equally, and foreign investors are welcome to start businesses in the country, especially in China's less-developed central and western regions, Li said.
The premier has reiterated the significance of free trade and investment access as protectionism rises amid a sluggish recovery of the world economy since the 2008 financial crisis.
Li has made similar points during domestic tours, such as the China Big Data Industry Summit in Guizhou province in May, as well as on overseas trips, including his visit to the UN headquarters in New York in September and to Latvia, where he attended the fifth leaders' meeting between China and Central and Eastern European Countries in November.
Chen Fengying, a global economy researcher at the China Institute of Contemporary International Relations, said the premier's remarks were a follow-up to what he said in the Government Work Report on March 5. The premier's interaction with overseas representatives could disclose where China will further reform and open up and how it can achieve that while transforming its economy, Chen added.
"His remarks are expected to inject confidence into foreign investors, who now are more interested in cooperating with China than before, when facing rising protectionism and sentiment against globalization," she said.