China, Saudi Arabia deepen ties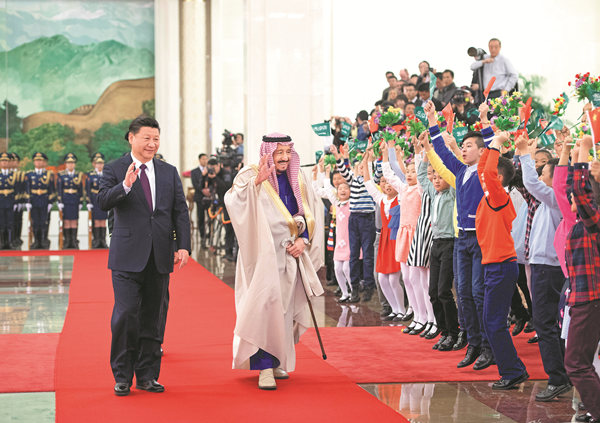 President Xi Jinping holds a welcoming ceremony for visiting Saudi Arabian King Salman bin Abdulaziz al-Saud at the Great Hall of the People in Beijing on Thursday.Li Xueren / Xinhua
Among cooperation deals is one with 35 projects worth $65 billion
China and Saudi Arabia signed 14 agreements and memorandums of understanding on Thursday to deepen cooperation in such areas as energy, investment, finance, culture and aerospace.
Among the 14 cooperative documents, one is an MOU on production capacity and investment cooperation that has 35 big projects involving $65 billion, the Foreign Ministry said.
The signing of the cooperative documents in Beijing was witnessed by President Xi Jinping and Saudi Arabian King Salman bin Abdulaziz al-Saud. The king is leading a huge delegation on a state visit to the world's second-largest economy from Wednesday to Saturday.
China is a reliable and stable market for Saudi Arabia's crude oil exports, and the two countries should make joint efforts to deepen energy cooperation, Xi told the Saudi king.
China became Saudi Arabia's largest trading partner in 2015, and Saudi Arabia has been China's biggest crude oil supplier and largest trading partner in western Asia for years.
China and Saudi Arabia should also deepen cooperation in areas including telecommunications, aerospace, culture, education, health, science and technology, tourism, media and security, Xi said. The two sides should also explore establishing platforms for finance and investment cooperation, he added.
China will continue to support Saudi Arabia's efforts to safeguard national sovereignty, security and development interests, and it will support Saudi Arabia to play a bigger role in regional and global affairs, the president said.
Xi said boosting development is the key to resolving many problems in the Middle East, and disputes should be settled through political dialogue.
China would like to work with all countries along the routes of the Belt and Road Initiative, including Middle Eastern nations, to jointly implement the initiative, Xi said.
The initiative, which Xi proposed in 2013, aims to revive the ancient trade route of the Silk Road, with a focus on infrastructure, through the Silk Road Economic Belt and the 21st Century Maritime Silk Road.
During the meeting, the Saudi Arabian king expressed satisfaction with the current high-level development of bilateral ties.
Saudi Arabia firmly upholds the one-China policy, and the country would like to deepen cooperation with China in areas including economy and trade, investment, finance and energy, the 81-year-old king said.
Saudi Arabia thinks highly of China's important role in maintaining international peace and security, he said, adding that his country hopes China will play a bigger role in Middle East affairs.
Vice-Foreign Minister Zhang Ming told reporters after the signing ceremony that the Saudi Arabian king's visit to China is fruitful.
The two countries have also agreed to make joint efforts in fighting terrorism, he said.
King Salman's trip to China, the first by a Saudi king in 11 years, returns the favor after Xi visited the kingdom in January last year as part of the first state visit to the Middle East by a Chinese leader in seven years.
During Xi's visit, the two countries lifted their ties to a comprehensive strategic partnership.
Jin Yong, a professor of international relations at Communication University of China, said the Belt and Road Initiative is expected to help Saudi Arabia realize its growth plan.
In a bid to diversify its heavily oil-dependent economy, Saudi Arabia announced the "Saudi Vision 2030" growth strategy last year, which includes privatizing some state-owned companies.
Saudi Arabia serves as the central hub connecting Asia, Africa and Europe, which makes the country an ideal partner for the Belt and Road Initiative, he said.