National lawmakers gather in Beijing for annual assembly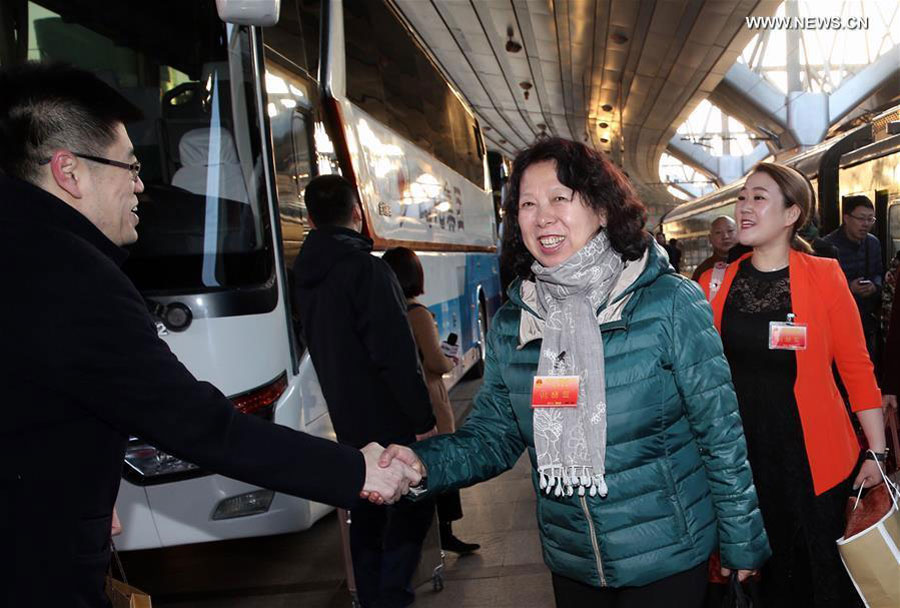 Deputies to the 12th National People's Congress (NPC) from Northeast China's Heilongjiang province arrive at Beijing Railway Station in Beijing, capital of China, March 2, 2017. The fifth annual session of the 12th NPC will open on March 5. [Photo/Xinhua]
BEIJING -- Deputies to the National People's Congress (NPC) are gathering in Beijing for the top legislature's annual session, which will open on Sunday.
NPC delegations from outside Beijing all arrived in the capital on Thursday, and preparations for the session are complete, according to the press center of the fifth session of the 12th NPC.
Deputies from Northeast China's Heilongjiang province were the first to arrive.
NPC deputies are elected by people's congresses of provinces, autonomous regions and municipalities. The armed forces elect their own. Deputies from Hong Kong, Macao and Taiwan follow separate election rules decided by the NPC.
Lawmaker Tan Zhijuan, a researcher on agriculture from Heilongjiang, has brought two bills, one on agricultural cooperatives and the other on supply-side structural reform in the agricultural sector.
Lawmaker Weng Guoxing from East China's Fujian province, a medical doctor, said this year he would continue to focus his attention on health reform.
Documents for the meeting are translated into seven ethnic minority languages, including Mongolian, Tibetan and Uygur, and several foreign languages, including English, French, Russian and Spanish.
The NPC session will deal principally with the government work report, the central government budget and draft General Provisions of Civil Law.
The government work report will be delivered by Premier Li Keqiang at the opening of the session when growth targets for the year will be unveiled.
The draft General Provisions of Civil Law have gone through three readings since June last year and are expected to be approved.