Yale graduate helping transform remote village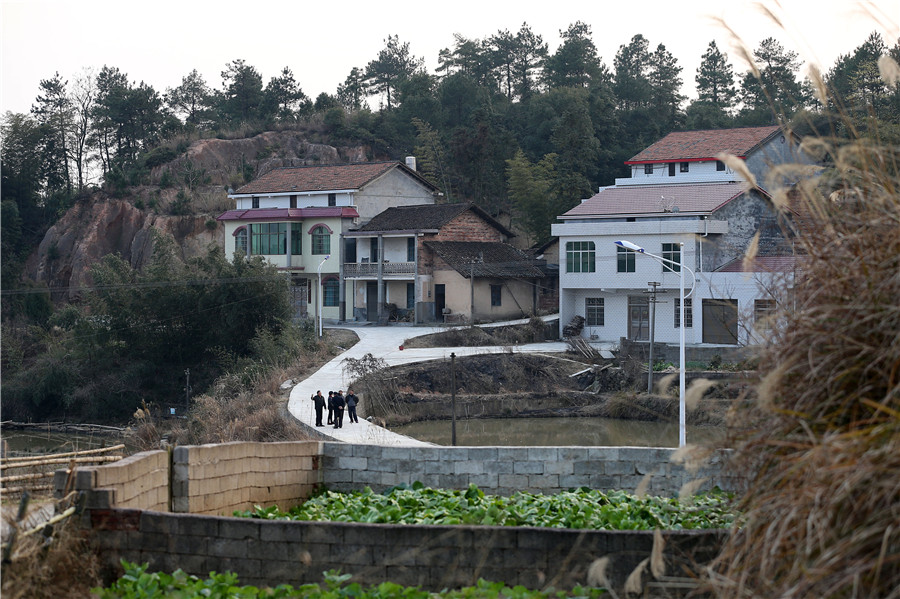 Baiyun village in Hunan province. [Photo by Wang Zhuangfei/China Daily]
Qin also faced doubts when he first worked as the head of the Hejiashan village, Hengshan county, Hunan province, in 2011.
He took showers in the summer morning, which was regarded as "wasting water" by the villagers. To fit into the new life and win trust of the villagers, he mastered the local dialect within three months and learned to smoke and drink, which helped him get closer to the local people.
"Before he starts his job, Qin talks with us. He pays respect to our lifestyle and we trust him," says Wang Guangli, head of Baiyun village, which has over 3,000 people with a yearly income of around 10,000 yuan.
During his duty in Hejiashan village, Qin managed to raise more than 800,000 yuan in one year from the government and private donors for local infrastructure, such as the installation of streetlights, improving irrigation facilities and arranging school bus for the children.
"But it's not enough and unsustainable. When I left the village, there will be no donation," Qin says.
Three years later when his contract was up, he turned down the promotion of working in Hengshan county government and was transferred to Baiyun Village as the chief to further realize his ambition.
In 2014, he co-founded Serve For China, a nonprofit organization with a group of Yale and Harvard Chinese graduates, to recruit Chinese university graduates to work in poverty-stricken villages. In 2016, Serve For China recruited the first 30 young Chinese people and Tan Tengjiao is one of them.
The 28-year-old from Hengshan county, Hunan province, graduated from Renmin University and worked as a civil servant in Changsha Public Security Bureau for seven years.
"I am married and have a three-year-old daughter. The stable life as a civil servant was a guarantee. It was a tough decision to make," says Teng, who joined Qin last September.
"First, my job was boring and I wanted to do something challenging. Second, the payment is tempting, 7,000 yuan a month, which doubles my previous salary," he continues. "It turns out to be a worthy try."
They helped the village establish a rural cooperative last October to produce and sell edible camellia oil online.
"The local resources are great treasure. The value of those camellia trees has been ignored but now we make the best use of those trees," says Qin.
By January, the rural cooperative has made over 120,000 yuan by selling camellia oil. More ideas, such as building factory and developing side products, like handmade soap of camellia oil, have been planned.
"The success of the factory will attract young people of the village to return to their hometown and work for the village," says Qin, who is also a deputy to the Hengyang City People's Congress.
One of the collaborators with Serve For China is the media guru Hong Huang, whose brainchild, Brand New China, devotes to promoting Chinese designers' clothing, furniture and household articles.
"These young people see the value of the villages. They set a good example for young Chinese people," says Hong, who will help promote embroidery techniques of Miao ethnic people from Yunnan province, a project under Serve For China, become a fashion brand.
Sleeping five hours a day, Qin lost 15kg after he came to work as a village official. One of his favorite places is the rooftop of his house, where he reads, listens to music and watch the nature. His duty in Baiyun Village will be up in this October but Qin says he won't leave because his work with the rural cooperative just started. He travels a lot these days to have meetings in the county and to negotiate with business partners in Beijing and other cities.
"We are like family," says Bin Hongying, a 70-year-old villager of Baiyun Village, who picked up Qin by riding motorcycle three years when he first came to the village. "He has done a lot for us. We hope that he could find a girlfriend and get married soon."