China's medical robots take on foreign rivals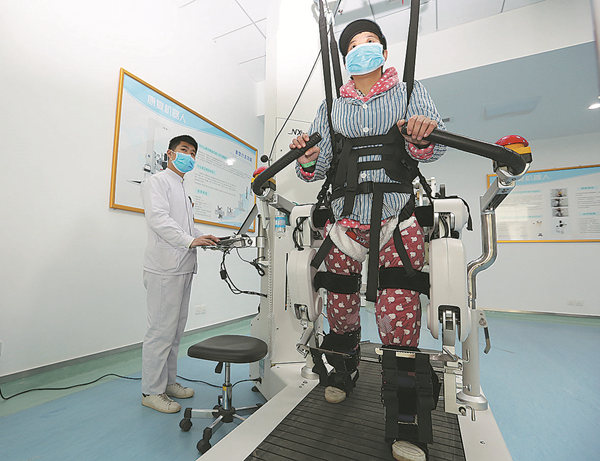 A patient walks with the help of a rehabilitation robot in a hospitalin Xiangyang, Hubei province, in 2016. YANG DONG / FOR CHINA DAILY
In 2016, China's medical robotics market was valued at 791 million yuan, up 34.4 percent from 2015, according to a report by the Beijing-based research company GCiS.
"From surgery, rehabilitation, drug delivery to home care, robots are set to transform China's healthcare industry, " GCiS predicted.
In addition to Tinavi, whose robots have completed around 2,000 surgeries since 2010, there are many new players.
One of them is Chongqing Jinshan Science and Technology. The company started as a maker of capsule endoscopes, or pill-sized cameras that record images of the digestive tract. Its products, approved by US medical authorities in 2008, are available in over 60 countries.
Jinshan has become partners with the well-regarded Harbin Institute of Technology on the country's first minimally invasive surgical robot for thoracic and celiac diseases. It is scheduled to go into clinical testing soon.
"China's medical robot sector is still in its infancy. But homegrown enterprises and universities are more united than ever in the R&D of core technologies. They are narrowing the gap with foreign leaders such as US company Intuitive Surgical's da Vinci surgery robot," said Guo Xuan, deputy director of Beijing-based Yizhuang Smart Robotics Industry Research Institute. Strong policy support has helped, Guo said.
Yu Shaoyu, a government official in charge of attracting high-tech enterprises to Wuxi, Jiangsu province, said, "We have set up an industry fund to encourage medical robot- makers, and will offer them a slate of preferential policies, including rent rebates and help in intellectual property applications."
Public hospitals are also encouraged to play an active part. China PLA Navy General Hospital has developed the neurosurgical robot Remebot through a partnership with Beijing University of Aeronautics and Astronautics.
"It is very important to win support from hospitals because they are the buyers of most medical robots and know exactly what is needed," said Luo Jun, CEO of the International Robotics and Intelligent Equipment Industry Alliance.
The field is so promising that Midea Group, a major Chinese home appliances maker, also has joined in. It set up a joint venture in 2015 with Yaskawa Electric Corp, a Japanese robot maker, to develop nursing care and rehabilitation robots.
A doctor uses Phecda, a surgical robot developed by Tinavi, to do orthopedic surgery in Beijing Jishuitan Hospital in 2016. Provided to China Daily
A patient walks with the help of a rehabilitation robot in a hospital in Xiangyang, Hubei province, in 2016. Yang Dong / for China Daily