County's bakers rise to the occasion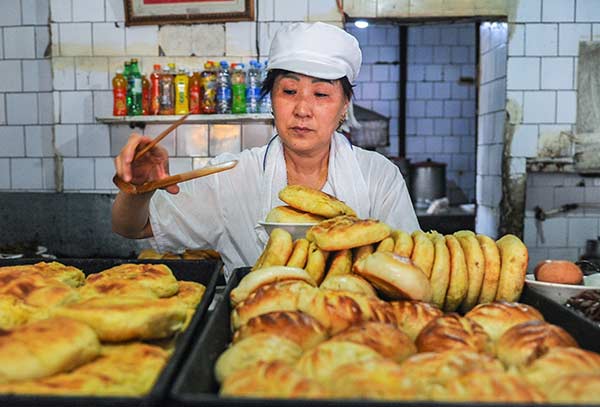 Shaobing is a traditional snack, particularly popular in North China.Wang Song / Xinhua
As the burners below 100 griddle plates roared into action, 100 bakers waited eagerly for the starting gong. Then came the cry: "Rolling pins ready! Spatulas ready! One, two, three, go!"
The chefs were in Xiangfen, a small county in Shanxi province, for its first-ever contest to find the best baker of shaobing, a type of traditional flatbread that is a particularly popular snack in the north of China.
After more than two hours, 200 cooks had been whittled down to just one and Qiao Yongjun from Yonggu town was named the winner. He sells shaobing in Taiyuan, the provincial capital.
Since the 1990s, 20,000 people have left Xiangfen to become migrant workers in China's big cities. It is estimated that they earn a combined 500 million yuan ($73 million) per year.
While many migrant workers look for jobs as laborers or factory workers, a large number of people from Xiangfen have chosen to become bakers instead.
Some, such as Yuan Wugen, 43, have found great success.

Born into a poor rural family, he entered the workforce at age 14 and by the time he was 20, he had his own restaurant in Beijing that specialized in shaobing.
He is now the head of a lucrative catering enterprise and his success has inspired others to try their luck.
"When I was at the station in Linfen and I asked for a train ticket to Beijing, the ticket officer knew immediately that I was a baker from Xiangfen," said Yu Dongxiang, 45.
He moved to Beijing in 1999, after getting married and finding himself in debt. From a tiny rented store, not muchmore than a hole in the wall, he sold shaobing.
"I earned more than 20,000 yuan in that first year, which meant I could pay off my debt," said Yu, who now owns a restaurant in Beijing and a courtyard house in Xiangfen.
Shaobing pioneers such as Yu have reported earnings of more than 300,000 yuan a year, but he reckons the most astute sellers could rake in millions.
In order to make the most out of its local snacks and delicacies, Xiangfen recently registered a trademark. All of its food souvenirs will now be sold under the brand "Jinxiangsu", which is a combination of the names of the province, county and the Chinese word for delicious, according to deputy county chief Du Xutang.
The purpose of the baking contest was to promote Xiangfen shaobing and offer bakers an opportunity to share and perfect their skills.
"We want every resident of Xiangfen, especially the young, to know that this traditional snack has the potential to generate a good income," Du said.
The move comes as other small cities and towns around China explore the potential of food tourism.
Lanzhou in Gansu province is known for its beef lamian, or hand-pulled noddles, and there are more than 30,000 beef noodle outlets in China, generating 50 billion yuan per year in revenue.
In Liuzhou in South China's Guangxi Zhuang autonomous region, sales of luosifen, a rice noodle dish made with river snails, generated 1.5 billion yuan last year.
The profitability of shaobing has not gone unnoticed by Xiangfen's younger generation, who are happily donning aprons and taking over their parent's businesses.
"Making shaobing may be hard work, but I am motivated knowing that this food is being turned into cash, cars and houses," said Yang Huiting, 31, who has sold the snack in Beijing for 15 years and recently took over a restaurant from her father.
Yang went home to Xiangfen for Spring Festival but she will return to Beijing in the coming days.
"Selling snacks is about more than just the money, its about keeping our traditions alive," she said.
By Xinhua in Taiyuan