Beijing and Canberra to upgrade economic relations, diversify trade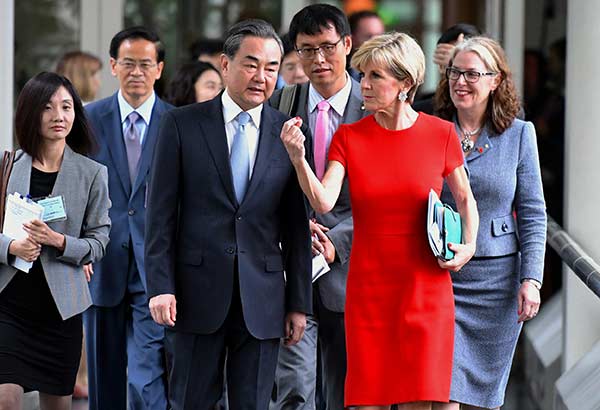 Chinese Foreign Minister Wang Yi and Australian Minister for Foreign Affairs Julie Bishop meet on Tuesday at Parliament House in Australia's capital, Canberra. MICK TSIKAS/AUSTRALIAN ASSOCIATED PRESS
China and Australia agreed on Tuesday to upgrade economic cooperation and diversify trade amid the turmoil and fears raised by growing protectionist sentiment, especially in the United States and the European Union.
In a meeting with Foreign Minister Wang Yi on Tuesday evening in Australia's capital, Canberra, Prime Minister Malcolm Turnbull assured Wang that, as a country that has benefited from free trade, Australia will make joint efforts with China to resolutely oppose protectionism.
Wang noted that Australia is an important member of the China-US "joint friends circle", and that Australia can continue to be an ally of the US while also being a comprehensive strategic partner of China.
Earlier Tuesday, Wang told reporters that he and his Australian counterpart Julie Bishop agreed to boost free trade and make bilateral trade more diverse and sustainable than its current heavy reliance on minerals.
Tuesday's meetings took place in the shadow of growing protectionist sentiment, symbolized by US President Donald Trump's "America First" policy and similar political sentiments in Europe.
Citing the benefits of the China-Australia free trade agreement signed a year ago, Wang vowed to take a "firm stand" against protectionism.
"At a time when we face an international situation that is full of uncertainties, we agree to send a clear message that it is important to firmly commit to an open world economy," he said.
He added that it is also important to steer economic globalization toward greater inclusiveness and broader shared benefits in a more sustainable way.
Bishop said Australia is committed to ensuring the free trade agreement with China continues to grow. She said the countries plan to cooperate more on tourism, regional infrastructure, innovation and energy.
Despite the "economic transition and uncertainty around the world", Bishop said, "Australia reassures China that we are a reliable partner and that we will continue to place a strong trade and economic relationship as one of our highest priorities."
Foreign Ministry spokesman Lu Kang said at a regular news conference on Tuesday that China and Australia have the "strong political will" to advance bilateral ties.
On Sunday, Premier Li Keqiang and Turnbull sent their congratulations to the China-Australia Year of Tourism 2017, which was officially launched in Sydney, Xinhua News Agency reported.
Li said he was happy to see that China and Australia have become popular tourism destinations for each other, with the total number of two-way arrivals between the two countries reaching nearly 2 million last year.
Turnbull added that China has become Australia's most valuable source of tourism, with 1.2 million Chinese tourists visiting Australia last year.
In a related development, Alibaba Group, the Chinese e-commerce giant, launched its headquarters for Australia and New Zealand operations on Saturday.
Jack Ma, the group's founder and executive chairman, told 300 of the country's business and political elite that Australia's clean environment was its next "gold mine".
Ma also emphasized the dangers of protectionism. "If trade stops, war starts," he said at the launch ceremony.
The company's headquarters for the region in Melbourne is intended to help businesses based in Australia and New Zealand share their products with global customers, the Australian Associated Press reported.