Woman searches for boy in 18-year-old photo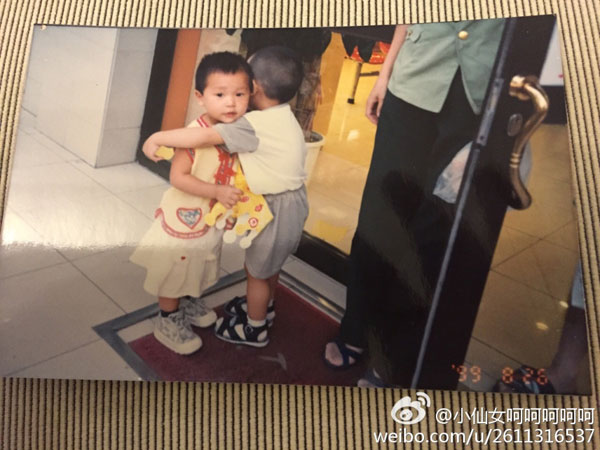 The boy hugs "Xiaoxiannvhehehehehe" at a cake shop in Tianjin on Aug 18, 1999. [Photo/Sina Weibo]
Do you remember your playmates from childhood? One woman from the northern city of Tianjin is hoping to track down a boy who hugged her 18 years ago.
The young woman with an online name Xiaoxiannvhehehehehe posted two photos on Sina Weibo, China's Twitter-like service, in the hope of identifying the boy photographed giving her a hug in Wanxincun community, in the city's Hedong district.
"Looking for the boy in gray clothes in Tianjin," she posted.
"It was on my second birthday on Aug 18, 1999 at the cake shop in Wanxincun community. My mom told me that he faced me through the glass door and rushed to hug me when his mother opened the door."
The posts soon attracted much attention as Weibo users forwarded the post to help find the boy. Media outlets, such as ce.cn, a website that usually focuses on business reports, also picked up the case.
The young woman explained that she only just found the photos in her mother's cell phone on Feb 3. She was intrigued and began her search for the boy.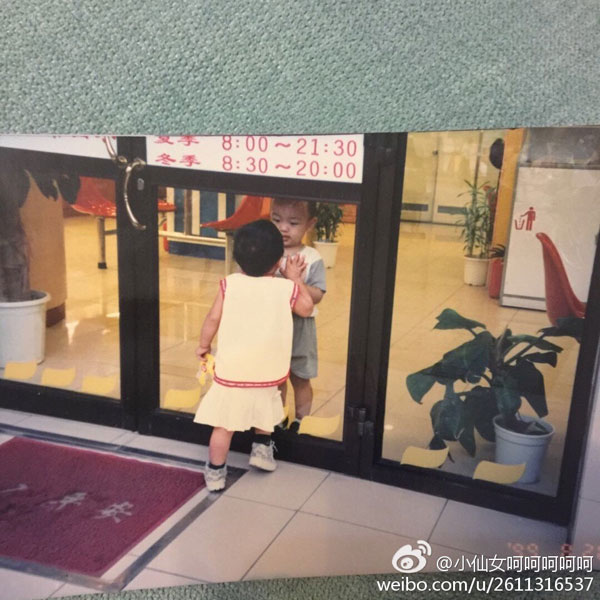 The boy looks through the glass door at "Xiaoxiannvhehehehe" at a cake shop in Tianjin on Aug 18, 1999. [Photo/Sina Weibo]