New economic data show growth remains on track
The Caixin manufacturing purchasing managers index, released on Friday, edged down in January to 51.0 from December's 51.9, which shows the country's economic growth remains on track, although the momentum eased moderately, analysts said.
A reading above 50 indicates expansion, while one below 50 represents contraction.
The Caixin PMI reading in December was the highest in almost four years and, although it eased in January, was the seventh straight month of growth, indicating continued stable growth of the world's second-largest economy, analysts said.
"The Chinese economy maintained stable growth in January," said Zhong Zhengsheng, director of macroeconomic analysis at CEBM Group, a think tank of China's Caixin Media.
Output and new orders rose at slower paces while new export orders went up the most since September 2014, according to the PMI report compiled by Caixin Media and IHS Markit.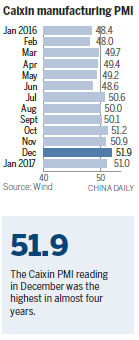 The subindices of Caixin PMI show that the current growth momentum may be hard to sustain, said Zhong. "We must remain wary of downward pressures on the economy this year."
The Caixin PMI in January is in line with the official index for the month, which was released on Wednesday. The official manufacturing PMI stood at 51.3 in January, down slightly from 51.4 in December.
The official PMI, released by the National Bureau of Statistics, monitors mainly large enterprises while the Caixin PMI surveys on small and medium-sized companies.
China's economic growth momentum has slowed in recent years, but it has remained resilient, with its GDP growth coming in at 6.8 percent year-on-year in the fourth quarter of last year and 6.7 percent for the whole of the year. Its economic structure has also improved, with consumption accounting for 64.6 percent of GDP in 2016, which has been accomplished thanks to the country's move toward a consumption-driven growth mode.
However, it also faces such challenges as financial risks brought by high asset prices and corporate leverage levels and large amounts of capital outflows as a result of the US interest rate and strengthening dollar.
On Friday, the People's Bank of China, the central bank, raised short-term interest rates in a further sign of a tightening policy bias as the economy shows more signs of stabilization.
Starting from Friday, the overnight rate of standing lending facility, a liquidity support tool, has been raised to 3.1 percent from 2.75 percent, that for seven-day SLF to 3.35 percent from 3.25 percent, and that for one-month SLF to 3.7 percent from 3.6 percent.
The move will help contain capital outflows and control financial risks accumulated after the country has continually injected liquidity into the economy in its stimulus programs in recent years, analysts said. "It is a sign of China's changing monetary policy stance," said Xu Hanfei, analyst of China Merchants Securities.