Second thoughts about a second child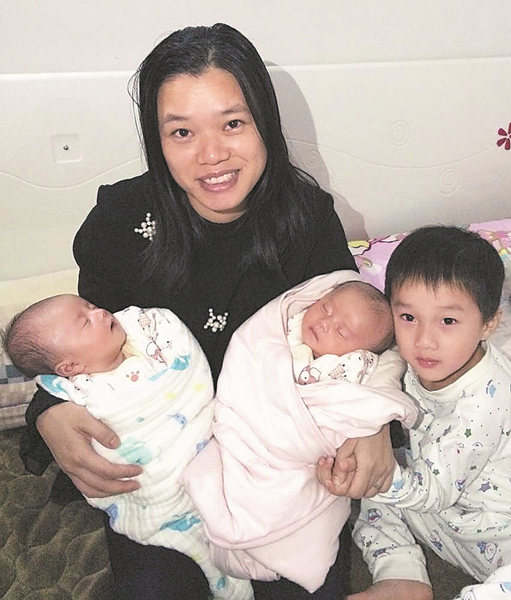 Liu Cuilan and her children. PROVIDED TO CHINA DAILY
Despite policy changes, some couples are reluctant to have another baby
The approach of Spring Festival, the traditional time for family reunions in China, saw many people making travel plans or preparing to go on year-end shopping sprees.
Liu Cuilan used to do those things, but this year, she preferred to remain at home after giving birth to twin daughters a month ago.
Liu, a 30-year-old English teacher from Meizhou, a prefecture-level city in the east of Guangdong province, and her husband Luo Yi, a bank teller, also have a 4-year-old son. They decided to have a second child after the government implemented the second-child policy early last year — but they didn't expect twins.
"You have no idea what you will be experiencing with twin babies until you have them. It is a struggle to feed them, change their diapers and lull them to sleep. I am crazily busy every day," Liu said.
Even working as hard as possible, Liu still could not cover every need, so she asked her mother-in-law to live with them and lend a helping hand.
In October, the family — then numbering three people — spent the Golden Week holiday in Shantou, a city in Guangdong, and also visited relatives and friends in the countryside to spend some quality time with them.
Preparation, exhaustion
"I am afraid that won't happen again for about three years. There is a huge amount of preparation to do before we go out, and we have to take my mother-in-law with us every time because the babies need special care. Everyone would be exhausted, so the best choice is to stay home," Liu said.
The arrival of the twins will also mean higher daily expenses during the holiday.
"Milk powder costs money, and with the whole family living in the city, spending the Spring Festival at home will require more money to cover everyday expenses than if we had headed back to the village in the countryside. We can imagine our lives in three years — it will be very pressurized, and I will need to work even harder to earn more money," Luo said, with a smile.
"But, we are lucky enough to have three children — this is the greatest thing ever."
Their bittersweet comments are a luxury that few families in China can afford, because the country is aging fast.
There are 1.3 billion people in China, and more than 220 million people, about 16 percent of the population, are age 60 and older. That figure set to rise to more than 400 million by 2033, according to the China National Working Commission on Aging. If nothing changes, by 2050, one-third of the country's population will be senior citizens.
The relaxation of the national policy on family planning in January last year, which effectively allowed every family to have two children, was intended to tackle the long-term problem.
However, it will take time until the benefits become obvious.
A recent report, jointly conducted by the All China Women's Federation and Beijing Normal University, found that more than 50 percent of Chinese parents do not want a second child, while a further 25 percent are hesitant about expanding their families.
Some factors were omitted to make the report more concise, but they also play an important role when parents are considering whether to have a second child, according to Wang Yun, a professor of child development at Beijing Normal University who led the research team.
They are objective conditions — such as how many houses or apartments a family owns, how many cars they have and whether the children will have rooms to themselves, she added.
"Obviously, the more you have, the more you are capable of raising a second child," she said.
However, there are also other, less obvious, concerns, such as how people feel about their financial circumstances. That is far less tangible and measurable, because many people in Beijing, where average incomes are the highest in the country, feel they are not well-off, a feeling derived in part from fierce peer pressure and the excessive portrayal of the wealthy in some sections of the media.
"This subjective feeling can play an equally important role as objective conditions in families' decisions, if not more so in some instances," Wang said.
She suggested that the government should provide more public resources, such as easier access to childcare services, education and medical treatments, to make people feel more comfortable with the idea of having a second child.
"It's not the second baby that traps people at home during the holidays — it's the lack of public services," Wang said.
Contact the writers at chenmengwei@chinadaily.com.cn and liuxiaoli@chinadaily.com.cn