Moves to better protect the public
Departments and ministries under the State Council, China's Cabinet, have responded to a series of public concerns in the past week including supervision over infant formula, normal college construction and the judicial examination reform.
Zhang Jing, a China Food and Drug Administration official in charge of food supervision, said at the administration's media conference on Jan 16 that the product names and labels on infant formula should be clear and not mislead consumers.
Zhang pointed out that some infant formula product names and labels are exaggerating their benefits, such as claiming that they are conducive to developing children's intelligence, a claim with no scientific basis. Meanwhile, it is inappropriate to use the word "gold" or "sliver" in branding or naming infant formula.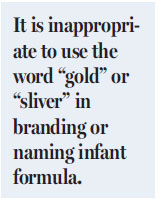 Zhang pointed out that his administration is regulating labels and the names of infant formula and will take effective measures to enhance supervision, to safeguard consumer rights. According to Zhang, the quality and safety of infant formula is a priority for the administration. The administration has implemented strict supervision on infant formula from the milk's source, through the production process to sales, and will enhance supervision.
Wang Dinghua, head of the Teacher's Work Division of the Ministry of Education, said on Jan 15 that none of the overall 181 normal colleges in China will be closed or renamed during the 13th Five-Year Plan period (2016-20).
During this period, the mechanism, models and lessons used in teacher training will be improved, and teacher education will be enhanced.
Wang said that during the 13th Five-Year Plan period (2016-20) a comprehensive reform of the primary and middle school teacher's professional title system will be implemented. In the future, students of normal colleges should take a professional teacher certification examination, and the students that fail to pass will be disqualified from being a teacher.
A senior professional title will be introduced into the primary and middle school teacher's professional title system. In addition, teachers' examination and evaluation mechanisms will be revised, in order to encourage teachers to pay more attention to teaching.
According to a meeting of the Ministry of Justice on Jan 14, the National Judicial Examination, one of the most difficult exams in China, will be held for the last time in 2017. The meeting required that preparations be made for a revision of the national judicial examination system to a national unified legal professional qualification examination system, and implementation of measures and regulations. The reform is expected to improve the professional standard of all legal practitioners in China.
Minister of Justice Wu Aiying stressed that local authorities should pay attention to the work of legal exam reform.
wangyiqing@chinadaily.com.cn
(China Daily 01/24/2017 page7)