PLA slashes commercial activities
The People's Liberation Army and the Armed Police Force have halted 40 percent of their commercial activities as part of the ongoing military reform, Xinhua News Agency reported.
Decommercialization efforts will now focus on five fields - house rentals, agricultural and livestock production, hospitality services, medical services, and research and development - the report said on Tuesday.
Governments in provincial-level regions, including Beijing, Tianjin, Shanghai, Chongqing and Guangdong, have set up interdepartmental teams to work with military authorities to push forward the efforts, it said, adding that most business owners who rented houses from or used commercial services of the military received local government assistance.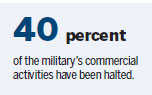 The Supreme People's Court has also established a panel to help the military deal with related legal and judiciary affairs, Xinhua said.
In February, the Central Military Commission ordered the PLA and the Armed Police Force to eradicate all commercial activities within three years. The top military body requested units stop signing new contracts and negotiate with civilian clients to cancel existing ones.
The Chinese military started running its own businesses in the mid-1980s to offset a sharp decrease in the defense budget ordered by then-leader Deng Xiaoping.
In 1992, the Central Military Commission officially approved commercial activities by the PLA and the Armed Police Force.
Senior Colonel Gong Fangbin, a political education researcher at PLA National Defense University, said several corruption cases involving senior officers were closely connected to the military's commercial activities.
The military's involvement in commercial sectors also aroused public suspicion about whether the PLA was focused on honing its combat capabilities and whether defense funds were properly used.
The closure of the military's businesses would help uproot the hotbed of corruption within the armed forces and enable them to concentrate on combat readiness, Gong said.
zhaolei@chinadaily.com.cn