Xi: Open economies can solve global sluggishness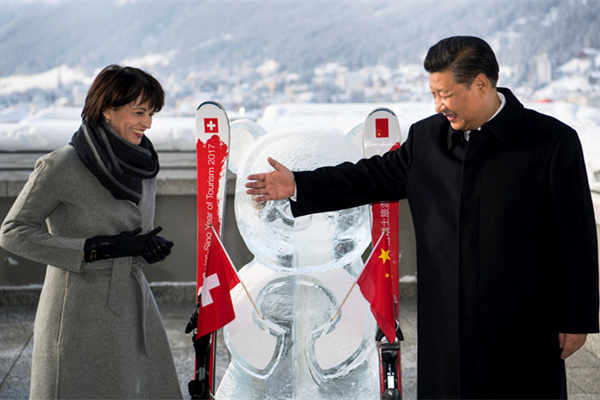 President Xi Jinping and Swiss President Doris Leuthard launch the Swiss-Sino year of tourism next to a panda ice sculpture on Tuesday on the sidelines of the 47th annual World Economic Forum in Davos. [Photo/Agencies]
President Xi Jinping called on Tuesday at the Davos World Economic Forum for boosting open economies as a solution to global sluggishness.
Xi's commitment to an open economy and firm opposition to trade protectionism will bring more confidence to the global economy, analysts said.
"Practicing trade protectionism is like locking oneself in a dark room. It seems to have screened wind and rain, but it also isolates one from sunshine and air," Xi said at the forum in Switzerland, which was attended by political and business leaders.
"Staging a trade war will only hurt both sides," he added.
Mentioning that economic globalization has been criticized by some as the cause of global sluggishness, Xi said it is not globalization that should be blamed, but regional conflicts. He said these have resulted in many problems, including the refugee crisis in the Middle East and North Africa.
"Of course, we also admit that economic globalization is a double-edged sword," Xi said, adding that it is not easy to "make the cake of global economy" bigger at a time when the traditional economic engine is losing power.
China has not only benefited from economic globalization but also contributed to the process, Xi said, adding that China's economy has contributed to more than 30 percent of global growth.
"China will not envy others, nor will it complain if others benefit from China's development," he said.
China's development is an opportunity for the world and the nation welcomes other countries to share its opportunities, Xi said.