Moving Taiwan trade mission called right choice for Nigeria
It is "a correct political choice" for Nigeria to order Taiwan to move its trade mission from the capital of Abuja, since the one-China principle is globally recognized, a Foreign Ministry spokesman said on Thursday.
The order came while Taiwan leader Tsai Ing-wen was on a Latin America trip aiming to expand the island's "international space" after the African nation of Sao Tome and Principe cut official ties with Taipei last month.
Analysts said Taiwan will continue to be marginalized by the international community if it keeps challenging the one-China principle, because Beijing will never compromise on the national sovereignty issue.
At a regular news conference, Foreign Ministry spokesman Lu Kang spoke highly of Nigeria's decision, saying it removed a barrier to healthy development of China-Nigeria ties.
"It proves again that sticking to the one-China principle is in accordance with the will of the people as well as the international trend," he said.
The one-China principle holds that the Chinese mainland and Taiwan are parts of one China.
Nigerian Minister of Foreign Affairs Geoffrey Onyeama announced the order on Wednesday after meeting with Foreign Minister Wang Yi in Abuja. Taiwan will no longer enjoy privileges because it isn't a country recognized under international law, Onyeama said.
The two countries signed a joint declaration after the talks, in which Nigeria reaffirmed its commitment to the one-China policy. Taiwan has no "diplomatic ties" with Nigeria but has an office for handling business affairs in Abuja.
Wang said after the meeting that Taiwan's business office has been engaged for years in activities that have obviously violated the one-China principle. In April last year, President Xi Jinping and Nigerian President Muhammadu Buhari reached an important consensus on sticking to the one-China principle, he said.
Wang Hailiang, a researcher of Taiwan studies at the Shanghai Academy of Social Sciences, said that Beijing has sent warnings to Taipei many times after Tsai, the island's leader, challenged the one-China principle in a congratulatory phone call to US president-elect Donald Trump in December.
"Beijing wants to send a signal not only to Taipei but also the international community that it has firmly resolved to safeguard national sovereignty," he said.
During a transit stop in Houston, Texas, on her way to Latin America, Tsai did not have a chance to meet with Trump's transition team on Saturday, which shows that Trump is acting more prudently on the one-China principle with the approach of his inauguration next week, Wang Hailiang added.
Currently, 21 countries and governments, mainly small nations and islands in Latin America, Oceania and Africa that rely heavily on economic aid from Taiwan, have official ties with the island.
anbaijie@chinadaily.com.cn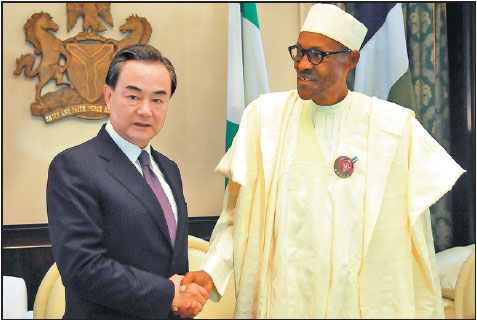 Foreign Minister Wang Yi meets with Nigerian President Muhammadu Buhari in Abuja, capital of Nigeria, on Thursday.Zhang Baoping/ Xinhua
(China Daily 01/13/2017 page3)